Kris Bernal is an Alex Gonzaga fangirl!
The entrepreneur-actress shared on social media that she's finally met her idol vlogger Alex Gonzaga. She shared that watching Alex actually motivated her to start a YouTube channel of her own.  
"Luckily, I had a chance to meet her in person last December," she shared along with a photo of them.
Just being around her "idol" made her nervous that she couldn't even look at Alex.
"Well obviously, in this picture, ang tigas ng katawan at ng mukha ko! Lol! I couldn't even look straight at her. I was so anxious for a whole day because I really want to take a picture with her," she said.
She added that she was supposed to vlog the moment but her nerves got in the way.
Kris then congratulated Alex who just recently tied the knot with her politician boyfriend Mikee Morada.
"Hope you'll continue to vlog and spread good vibes to other people even if you'll start a new journey," she ended.
Alex replied to Kris' post and congratulated her as well on her engagement to her boyfriend.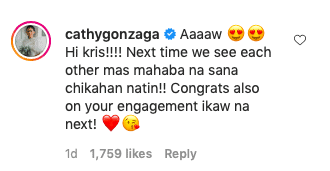 To date, Kris has over 340,000 subscribers on YouTube and 68 videos which are mostly about fitness, her makeup business and a few updates about her wedding to businessman fiancé Perry Choi set tentatively in May.