Ricci Rivero clapped back at a social media post made by one of his ex-girlfriend Andrea Brillantes' friends after going public with his relationship with Leren Bautista.
A heated exchange on X ensued after the basketball player responded to a post by vlogger Bea Borres about a certain person's "nagmamalinis" act.
In Bea's post, she wrote: "Lol hanggang hard launch nag mamalinis lmfao no."

To which Ricci reposted with a caption that read: "[P]uro tweet Bea[?] [G]usto mo maglabasan tayo ng labada? 😅 Tara sabihan tayo kung sino talaga kumakabit?"
"Hingi ka lifeline para may bala ka bago ka mag reply publicly for your publicity. Sayang pakikiaalam mo kung di ka kasama sa headline," he added.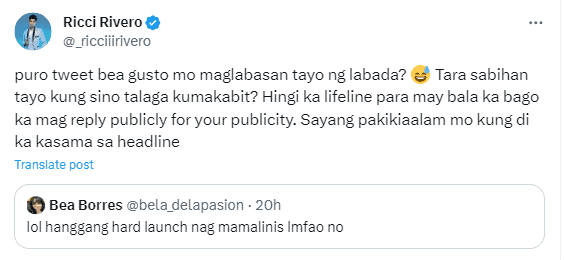 Bea's remark came a few hours after Ricci hard launched his relationship with then-rumored girlfriend, Laguna councilor Leren Bautista, on Instagram.
Meanwhile, an X user called out Ricci for his way of dealing with women on social media.
"T****** neto pumapatol talaga sa babae," the netizen wrote in his repost of Ricci's response to Bea's cryptic post.
Rivero retaliated from the comment, saying, "[D]iba dinadamay nila yung isa na walang kasalanan? Dahil ngayon nag sasalita na ako pumapatol na?"
He added, "Antayin natin yung time is the ultimate truth teller ng magka alaman sino talaga 😂🍵 isama kita sa washing machine eh."
It can be recalled that Ricci was romantically linked with Leren amidst his breakup with actress Andrea Brillantes last June, igniting speculation about a third party as the cause.
This was then addressed by the former beauty queen, denying any romance between her and the athlete.