Another K-zombie thriller is on the way!
Netflix's first Korean live action young adult (YA) zombie apocalypse series, All Of Us Are Dead, is promised to give a new meaning to the popular zombie genre.
During the press conference for the upcoming K-series, its director Lee Jae-Kyu shared how his work is unique from other zombie K-content like Train to Busan and Kingdom.
Right off the bat, Lee took pride in the "zombie choreography" that the series possesses. This choreography, he said, has really brought the zombies in the scenes to life.
"When you look at the zombies, the different details from the zombie choreography, we had a choreographer and someone who was an actor. These two created an amazing synergy in bring the zombies to life.
"I pride myself in our show that the details of the movements of the zombies, usually there is immense fear in that because you have this sense of fear and despair where you're not trying to hurt them but they try to kill you. I think that emotional aspect there is going to be something that sets us apart," he said.
The cast – Park Ji-hu, Yoon Chan-young, Choi Yi-hyun, Lomon, Yoo In-soo, Lee Yoo-mi and Lee Jae-hyeok – all had their own training just for the action sequences. Three of them even ended up sick after their intense special training.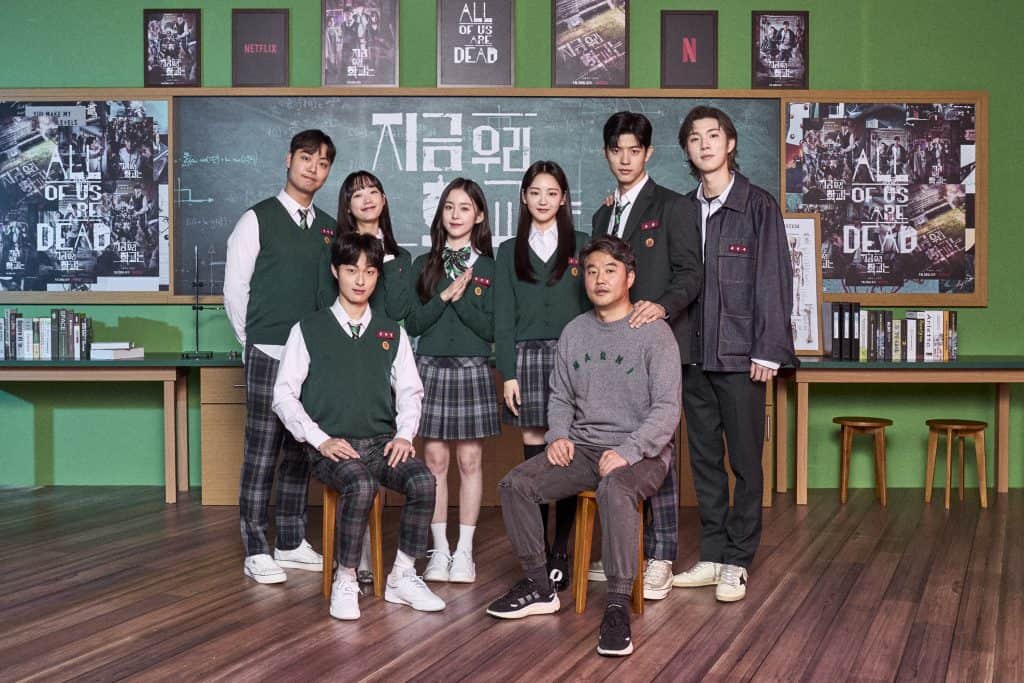 Yoon revealed that they had three one-hour sessions that had left them drained. He even went so far as to describe their sessions as "Spartan training".
The action scenes were not the only challenges the young cast had to face, director Lee said their dialogue had more improvised lines rather than actual script lines.
While the cast did their best improv work, Lee said they maintained the script just as a reference for their team.
All these action sequences would not be complete without a meticulous set that Lee described as another main cast in itself.
On set, they had built a four-story school with all the amenities of a real school for their intense scenes.
"There's a lot of blood – and that's why I felt we needed a set of our own. When we looked into the set, it was life one hundred meters wide. It was basically like a four-story school building inside the set and we would just be there all the time. It felt like we were really going to school, but a really gloomy school," Lee shared.
The webtoon based series is not just a show following the lives of high school students during an outbreak, Lee said it offers food of thought for its viewers as well.
He stressed that the issues they showed on screen are not ones that can be confined to a school setting.
"Whatever happens within a school, there are perpetrators, there are victims. That's exactly what happens in our society as well. Sometimes, due to the selfishness of a particular group, others are victimized and get hurt," he said.
All Of Us Are Dead presents the lives of these students who fight their way out a zombie virus outbreak at ground zero – their own school. In the midst of a life-or-death struggle against the zombies, their characters are tested as they make friendship and understand the true meaning of love.