Carlo Aquino recently revealed that he was supposed to play a role in Squid Game, the top-trending Korean series on Netflix.
In a recent Instagram story, the Kapamilya actor aired his regret over missing his chance to appear in the hit survival drama which started airing last September 17.
"This was supposedly a role for #Squid Game," wrote Carlo in his Instagram story alongside a photo showing a handwritten note he received from the series' director Hwang Dong-Hyuk.
"Dear Carlo, Thank you for your efforts. Looking forward to working with you in the near future," read the handwritten note from the South Korean filmmaker, which was posted by Carlo in his Instagram account June 10, 2020.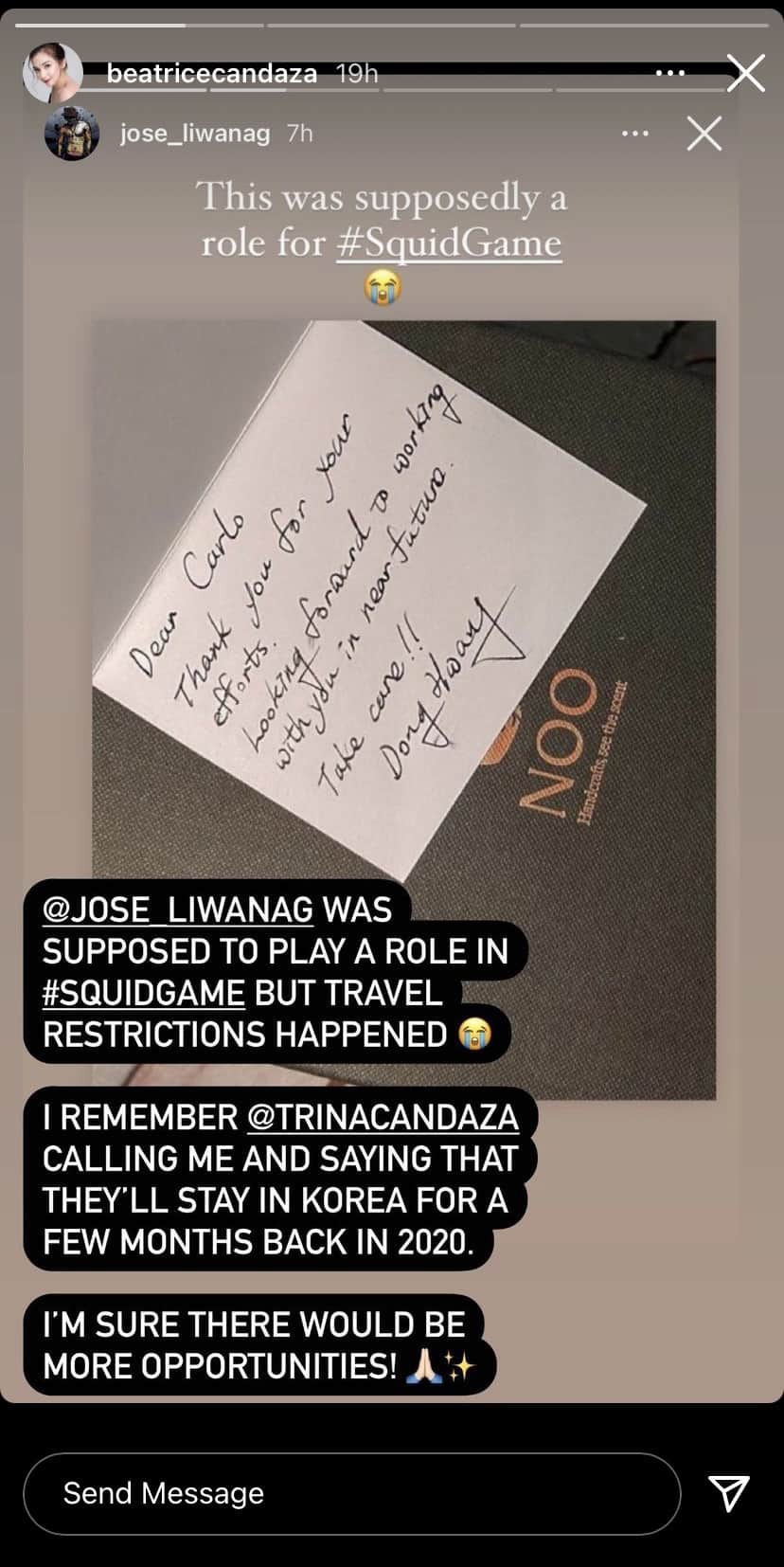 Although Carlo didn't go into detail about the "missed opportunity," Beatrice Candaza, sister of the actor's girlfriend Trina Candaza, related that the actor wasn't able to make it due to the imposed travel restrictions brought about by the COVID-19 pandemic at that time.
"I remember @trinacandaza calling me and saying that they'll stay in Korea for a few months back in 2020. I'm sure there would be more opportunities," shared Beatrice in an Instagram story.
Trina, meanwhile, expressed reassurance and support for her partner.
"I'm still proud of you @jose_liwanag! Isipin ko na lang ikaw si Ali," Trina said in an Instagram story, referring to the Squid Game character played by Indian actor Tripathi Anupam.
If Carlo made it to the series, he would've joined Christian Lagahit as the Filipino cast members in the Netflix show.
Christian, a South Korean-based English teacher, caught the attention of Filipino viewers after appearing on episode four of Squid Game as player 276. His previous appearance was in the first Korean space movie Space Sweepers.
Currently No. 1 on Netflix Philippines, Squid Game is a story about hundreds of broke people people who risk their lives playing traditional children's games for the prize money of 45.6 billion won.