Ellen Adarna had a no-holds-barred Q&A session with her Instagram followers Friday night (May 1) wherein she gave advice on dealing with and moving on from cheating partners based on her own experiences in life. On Saturday, she directly addressed a fan's question if she was referring to her ex John Lloyd Cruz.
It all started when the 32-year-old Cebuana actress told her followers to ask her anything Friday evening and she answered these questions mostly in the Cebuano language via Instagram stories. 
One of the most intriguing questions was why people cheat.
"Simple kay di sila kontento (Simple because they are not contented)," she replied.
When asked if she ever got cheated on, she gave a straightforward yes. 
Then she opened up about how she found out about her partner's infidelity. 
"Nagbakasyon siya unya nasakpan nako. So, pag-uli niya sa among balay that time, wala na akong mga gamit. (He went on a vacation and I caught him cheating. So when he came home that time, my stuff was no longer there.)  
"Wa ko mangaway niya, wa nako'y pangutana. (I didn't lash out at him and I didn't ask any questions.) I just left. Gwapa ko (because I'm beautiful)." 
She said that her ex was even surprised by how quickly she moved forward from what happened.
"Nag-empake ta, wala'y daghang pangutana, sibat na dayon ta. (I just packed up my stuff, no questions asked and left right away).
"Nahibong kaayo tong akong ex na pag-uli niya asa kuno ko, ka-move on nako pag abot niya sa balay. (He wondered where I was when he came home, that I was able to move out of the house when he arrived.)" 
When asked to offer advice to someone who's stuck in a toxic relationship, she frankly told her to leave the guy pronto.
She said, "Do yourself and everyone a favor — and leave. Because you shouldn't be in it. If you really love yourself, you shouldn't be in it. If you don't, then maybe you deserve it."
Ellen also believes that cheaters will always be cheaters, and so her advice to anyone who's in a relationship with a serial cheater is to, again, leave that person right away.  
"Day, biya-i. Bisag ikaw pay kinagwapahan, kinadautan, kinabrightan, kina seksihan, unsa pang kina diha, kung ang lalake babaero, babaero jud na. (Girl, leave him. Even if you're the prettiest, the slimmest, the brightest, the sexiest, the best of them all, if the guy is a playboy, he will always be a playboy.) 
"Bisag ikaw pa si Gigi Hadid, unsa ma'y pagtuo nimo sa imong kaugalingon? Nagtuo ka ug mag-usab gyud siya para nimo? Unsa gud ka para mag-usab gyud siya para nimo? Leave if di kaganahan mag-antos. (Even if you're Gigi Hadid, what do you think of yourself? You think he would change for you? Who are you that he would just change his ways for you? Leave if you don't want to suffer)."
These candid answers, however, left some fans thinking if Ellen was referring to her most recent ex-partner and the father of her child, actor John Lloyd Cruz.  
On Saturday, Ellen took to her IG stories again to issue a clarification as a reply to a fan's question. 
The fan asked if John Lloyd was the guy who cheated on her. 
She wrote: "Just to clear everything… NOPE. Dili siya (It's not him).
"Dili siya ni ghost and dili siya ni cheat. (He did not ghost me and he did not cheat on me.)
"Kuyaw naman kaayos remix and feelings ning mga tao kung unsa unsa nalang mga pangstorya. (People have gone overboard with the remix and their feelings that they're coming up with wild stories).
"Leave him alone kay dili siya gyud. (Leave him alone because it's really not him)," she ended.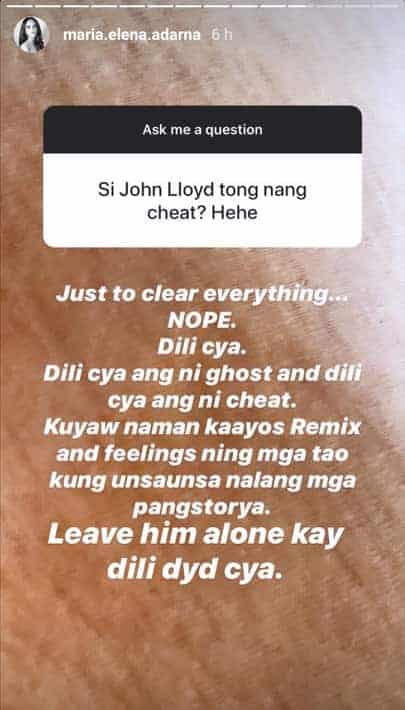 The 36-year-old actor went on an indefinite leave from showbiz in 2017 to attend to "personal matters" which later on was revealed to be Ellen's pregnancy. 
They have since separated but are co-parenting their son Elias Modesto.