"Pagka-artista bawal ba tumaba?"
Ella Cruz slammed netizens who left body-shaming comments on her recent dance cover uploaded on her Instagram.
On Thursday, the actress posted a video of her grooving to the K-pop song Psycho by Red Velvet. She was wearing a brown bralette top that showed off her tummy/abs.
While others were amused by her dancing skills, most of the comments were focused on her weight. Some netizens accused her of having a baby bump, while others said she gained weight.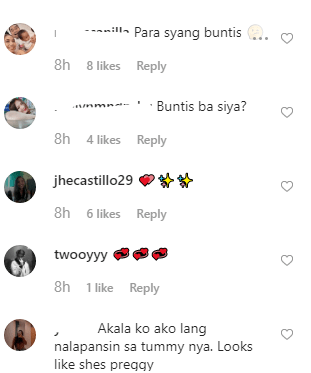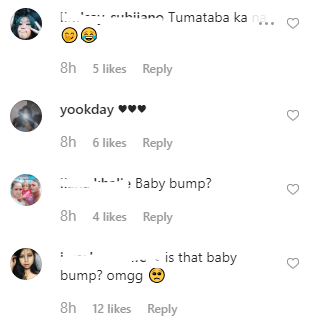 Ella initially just laughed off some comments in her Instagram post.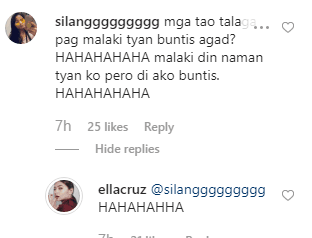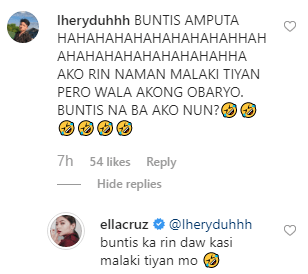 But after reading some hateful comments, the actress-dancer edited the caption and said: "KATATAPOS LANG NG PASKO AT BAGONG TAON. Hindi ba pwedeng busog lang? Tsk ?".
She also took to her different social media accounts to express her disappointment:
"Pagka-artista bawal ba tumaba? Kailangan lagi namin ginugutom sarili namin para ma-maintain yung gusto nyo? Katatapos lang ng pasko at bagong taon, hindi ba pwedeng bakasyon din ang pagdiet?"
Ella shared that she uploaded the video because she felt confident with her body but instead she received hateful remarks that made her feel bad about herself.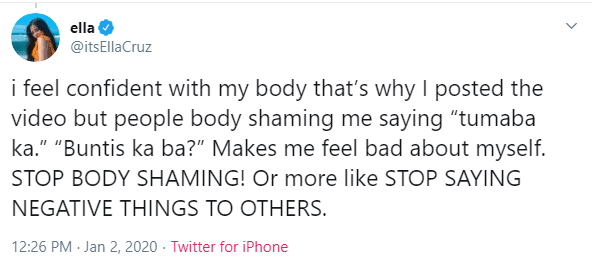 The 23-year-old actress also admitted that it was depressing.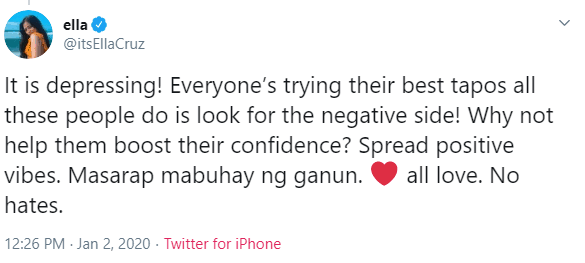 "Everyone's trying their best tapos all these people do is look for the negative side!" she added.
"Why not help them boost their confidence? Spread positive vibes. Masarap mabuhay ng ganun," she told body-shamers.
To lighten up the mood, two hours after her short dance cover was uploaded, she posted another video of her father this time whom she called as the real "preggy".
"Ginalit niyo papa ko. Eto daw ang buntis" wrote Ella on Instagram.
Relax guys, the holiday's just over like what Ella said. And, it's (very) normal to gain weight.
Cheer up, Ella!