Angel Locsin has responded to the Department of Education's statement apologizing over a teacher's module that went viral online for "body-shaming" the actress.
On Friday, DepEd Occidental Mindoro, which has jurisdiction over the teacher bashed by fans for calling Angel "an obese person" in a physical education learning material, said they don't tolerate or condone any act of body shaming.
Part of the module widely circulated on social media read (published as is): "SITUATION. Angel Locsin is an obese person. She, together with Coco Martin, eats fatty and sweet food in MANG INASAL fast food restaurant most of the time. In her house, she always watching television and does not have any physical activities.
"QUESTIONS: (5 pts each) 1. What do you think will happen to Angel if she continues her lifestyle? 2. How do lifestyle affects the health of an individual?"
"We would like to express our sincerest apology to the concerned individuals who may have been offended or harmed by this incident. The Department of Education does not tolerate nor condone any act of body shaming, ad hominem or any similar act of bullying both in the physical and virtual environments," the statement signed by Roger F. Capa, superintendent of the Schools Division of Occidental Mindoro, said.
It also noted that the learning module was not developed and quality assured by DepEd Central Office, but was a "teacher-made assessment for a Grade 10 MAPEH class purposely to measure specific competencies of the learning area."
"Assessment of the learning outcomes in a particular subject is a primordial responsibility of a teacher. Development of tools for such assessments is an academic freedom every teacher enjoys. This is without prejudice to the fundamental principles of test construction which involves social content in which one of our teachers may not have met the standard."
Nevertheless, the DepEd office had already "communicated with the concerned teacher and gathered facts from him. Rest assured that this matter will be given serious attention," appealing to the public to spare teacher from "any ad hominem attacks as this single mistake will not define him as a person."
Angel, however, has taken issue with the way DepEd addressed the issue.
In her social media pages on Sunday, the actress wrote: "I don't mind the insults. Cheap comments do not define who I am.
"I intended to ignore this issue, but when I read DepEd's statement, aba teka lang."
She said more than the problematic grammar, DepEd appeared less concerned with the teacher's behavior.
"What bothers me most is apart from teaching incorrect grammar to the students, DepEd seems unaffected that the said teacher is teaching bad conduct and sowing discrimination among the children. Anong mangyayare sa future kung ang mga kabataan ay tinuturuan ng pambabastos at pangungutya sa kapwa?"
Angel said that the more relevant issue is to have DepEd held accountable and correct the teacher in question.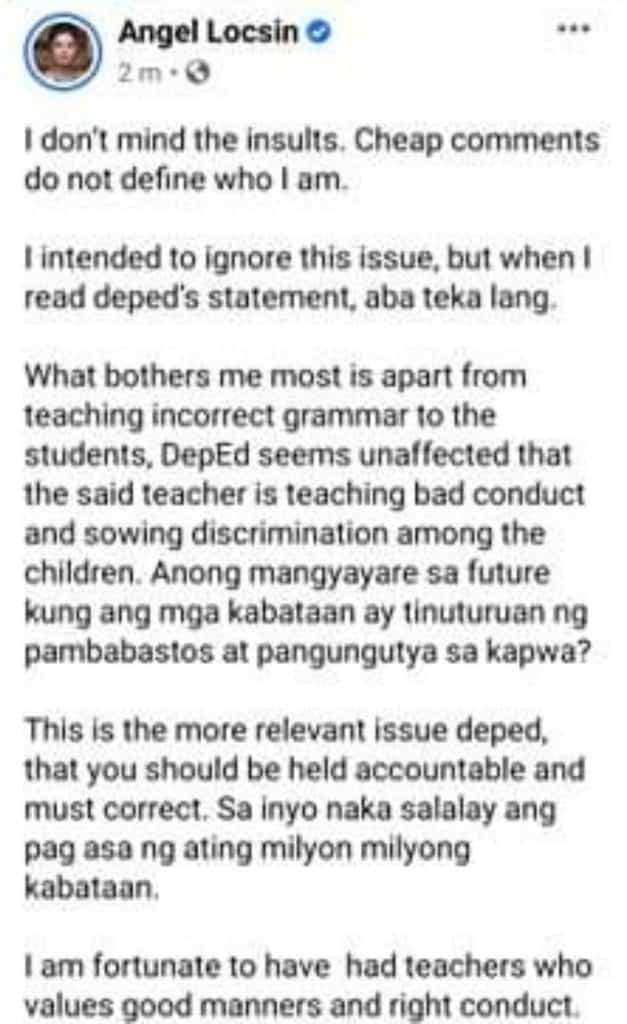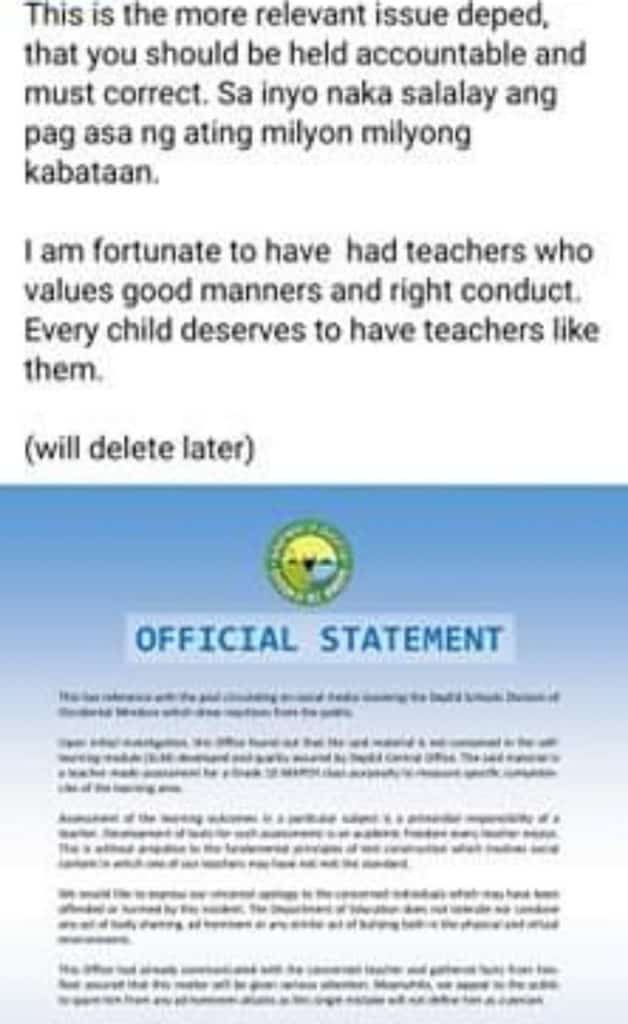 "This is the more relevant issue DepEd, that you should be held accountable and must correct. Sa inyo naka salalay ang pag asa ng ating milyon milyong kabataan."
She also wants the teacher to apologize to his students. "The said teacher should apologize to his students and all the students that read the module.
"I am fortunate to have had teachers who value good manners and right conduct. Every child deserves to have teachers like them."