GMA News reporter Joseph Morong trended on Twitter on Tuesday after apologizing repeatedly over a working selfie that accidentally showed an "adults-only" image in the background.
On Monday, the Malacañang Beat reporter shared a picture of himself on Twitter, working from home while waiting for the late-night address of President Rodrigo Duterte about COVID-19 quarantine restrictions in Metro Manila and the rest of the country.
Morong, however, didn't notice that his selfie also captured the Twitter feed on his laptop that showed a raunchy image from what some netizens pointed out as a gay porn site he was following on the platform.
The reporter has since deleted the selfie, but not quick enough that it got screenshot and shared by eagle-eyed netizens.
In a series of tweets, Morong blamed his timeline but nevertheless expressed that he is "so sorry" for the online gaffe.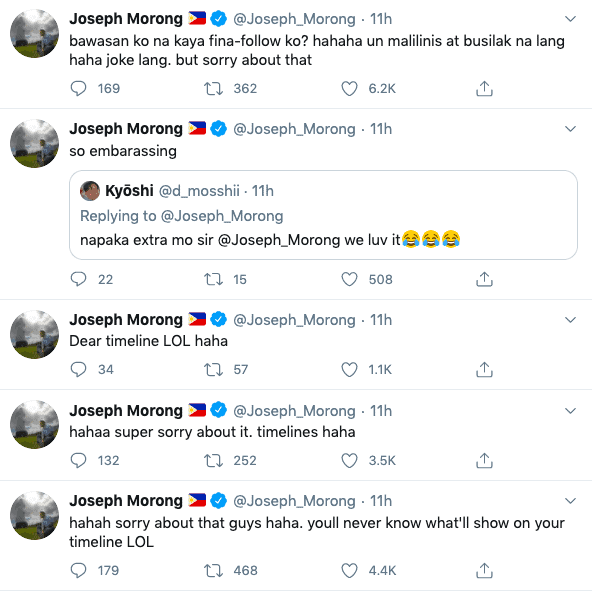 He said he wouldn't have noticed it "until you guys pointed it out haha."
He joked about thinking of filtering the sites he's following after this incident.
By Tuesday morning, Morong was one of the trending topics in the Philippines along with President Duterte and Cebu City, the new COVID-19 epicentre in the country, which was reverted to enhanced community quarantine status.
Despite the minor distraction caused by what he called his "so embarrassing" post, the TV reporter was able to furnish his followers with his usual summary after every IATF meeting of President Duterte.