Henry Cavill is famous for his role as Clark Kent or Superman. Now he is Geralt of Rivia in the upcoming Netflix series, The Witcher.
Based on the book by Andrzej Sapkowski, The Witcher was once an action-role playing video game in 2007. It is now a fantasy series produced by Lauren Schmidt Hissrich. The story follows a mutated monster-hunter for hire in a world where humans prove they are much worse than beasts.
The British actor, a self-admitted fan of the fantasy genre, is not just another actor on the set. The series' showrunner Lauren said he perfectly embodies Geralt. In fact, when she was writing the script, she already had Henry's voice in mind.
Lauren is also the creator of hit netflix shows The Umbrella Academy, The Defenders and Daredevil.
"We met 207 other potential Geralts. At the end of the day, I start to realize as I continue writing those scripts, I always had Henry's voice in my head and so when we met again we just immediately kicked off a great creative relationship," she said at The Witcher's press conference at the Conrad Manila, December 12.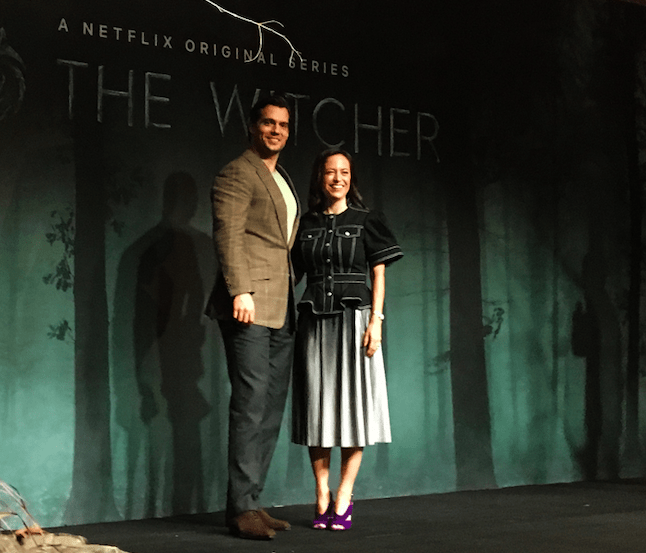 "One of my favorite things about Henry is how seriously he takes the job. He not only shows up prepared, he knows Geralt inside and out, better than I do now but he also shows up on time ready to work with a great attitude," Lauren added.
Not only does he play his character well, within the 178 days of shooting the show, Henry showed he is a leader, even on set.
"We work very long hours, mostly through the night, the rain, and the snow. We shot in Central Europe, and you count on your actor not just to embody the character, which obviously Henry does incredibly well but you also count on your actor to be a leader on to set, to show up, to set the tone," Lauren shared.
In making his character come to life, Henry shared how Geralt was already "built" in him since his father has been reading fantasy books to him before he could even read.
"The preparation for Geralt was a little bit in-built. I've been a fan of the fantasy genres ever since I was a boy. My father would read to me before I could even read and it was always the fantasy genre of books," he said.
He has also played the The Witcher's video games a few years back. This has definitely helped him in playing his character, he said.
"I was playing the games thinking how I could make this into a movie or a TV show and then after I met with Lauren, I read the books. It all happened quite naturally," he said.
The Witcher will start streaming Netflix, December 20.