The stars definitely aligned for Isabelle Daza! As she turned 33 this weekend, she also marked her 33rd week of pregnancy.  
The blooming mom took to social media to flaunt her growing baby bump on her special day, March 6.
"33 at 33 weeks," she captioned her post.
Isabelle wore a white baby doll dress as she clutched her tummy, smiling from ear-to-ear.
Under her post, her close celebrity friends all greeted the soon-to-be mom of two.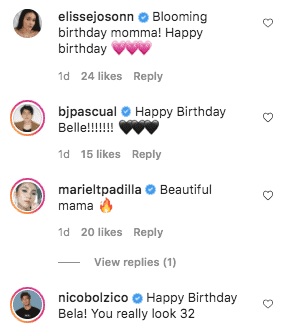 Late February, she held a pilattes and barre-themed baby shower with her gal pals at a Filipino-owned fitness studio in Hong Kong.
"The best part was hearing all the grunts and seeing all the genuine smiles after. So happy to have made new friends here," she wrote.
The 33-year-old announced her pregnancy the subtlest way possible back in December 2020.
In an Instagram post launching her maternity line for leggings, she simply mentioned that she was 21 weeks pregnant at the time.