Filipino singer Marcelito Pomoy sang his heart out for the finals of reality talent show America's Got Talent: The Champions with hit ballad Beauty and the Beast.
This spin-off of AGT has past participants from the Got Talent franchise as its contestants. The winner will be hailed as the "World Champion."
Marcelito is the winner of the 2011 edition of Philippines Got Talent. With his talent of singing dual voices (both tenor and soprano), he has been dubbed as the man with a golden female voice.
He is one step closer to winning the competition as he carried out his final performance of Beauty and the Beast as shown in a video released by AGT ahead of finale Monday night (Tuesday morning, Manila time).
Three out of the four judges were blown away with the 35-year-old singer's rendition of the ballad but judge and owner of the Got Talent franchise Simon Cowell expressed that his song choice was "predictable and safe."
Netizens were not having any of it as they pointed out that as executive producer of the show, Simon was responsible for the song choice that he criticized.
"When Simon Cowell admitted that he chose the song for Marcelito Pomoy to sing tonight yet admittedly said that it's kind of predictable. I hope he also admit that he don't want Marcelito to win, he's sort of a racist, and the basis of the show is not really pure talent," a netizen wrote on Twitter.
Early Tuesday, Marcelito shared on his Facebook account that his finals performance video posted Monday (Manila time) has already been deleted on the AGT Facebook page.
"I really don't know why they need to delete or hide my performance… sorry again.. It's out of my control.. I don't know their purpose as well," he wrote along with a screenshot that indicated his video was no longer available.
Today, the AGT Facebook page re-uploaded the video of his finals performance.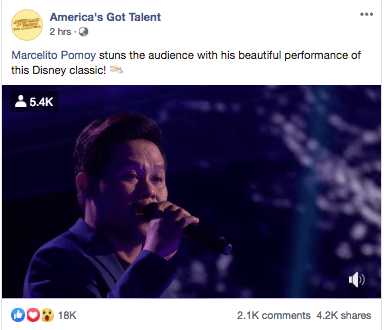 On the post Marcelito was referring to, netizens slammed Simon for his comment on the performance.
"After watching this clip and hearing Simon's criticism I'm glad I stopped watching this program," a netizen said.

Another wrote: "Simon Cowell did it again. He chose Marcelito Pomoy's song and had the audacity to react negatively. A clear sabotage. Why am I not surprised? #AGTChampions."

"We know that Simon picked the song for the finals. And now Simon is contradicting the song choice! What a horrible judge," another netizen said.


The world champion will be announced later today (Monday night, U.S. time).