The 'Ber' months have started and Cignal has an early holiday treat for all of us.
The first and only 24/7 Tagalized Movie Channel in the Philippines, TMC, which offers the best of Asia, Korean, and Hollywood movie is finally on Cignal Ch 49. All new and active Postpaid and Prepaid Cignal subscribers can now enjoy the open viewing of action-packed movies, award-winning thrillers, heartwarming drama, romance and comedy flicks, and international blockbuster hits starting this September until October 15, 2021.
Filipinos have already been used to watching Tagalog-dubbed content on television and somehow has become part of our modern culture. Being consistently in the Top 15 Pay TV channels ranking and most-watched movie channels, TMC has been committed to showcasing the most entertaining Tagalog-dubbed international movies – in line with the tagline, "Mas Masaya 'Pag Tagalized." With this, Filipinos can relate more to the films given their quality Tagalog dubbing.
For the September Highlights, every day is jampacked with lots of exciting films from different genres worldwide. It's good to start the week with TMC's Feel Good Mondays program block which starts from 8 pm to 10 pm. This features movies that sparks joy, laughter, and heartfelt roller coaster ride with the likes of Nicholas Sparks' movies, Jim Carrey's, and other inspiring films.
Tuesday is Tues Thrill with hair-raising horror, suspense, and slasher movies that will keep you awake and entertained all night. Starting 10 pm to 12 am, you can watch "Sadako vs. Kayako", "3AM trilogy", "The Tag Along, Zombie Fight Club", "The Boy", "From a House on Willow Street", "Gonjiam: Haunted Asylum", "Hide and Never Seek" and a lot more.
The week is even better with a prime movie lineup from Wednesdays to Fridays where the best of Asia, Korean, and Hollywood movies take the primetime viewing starting 6 pm onwards.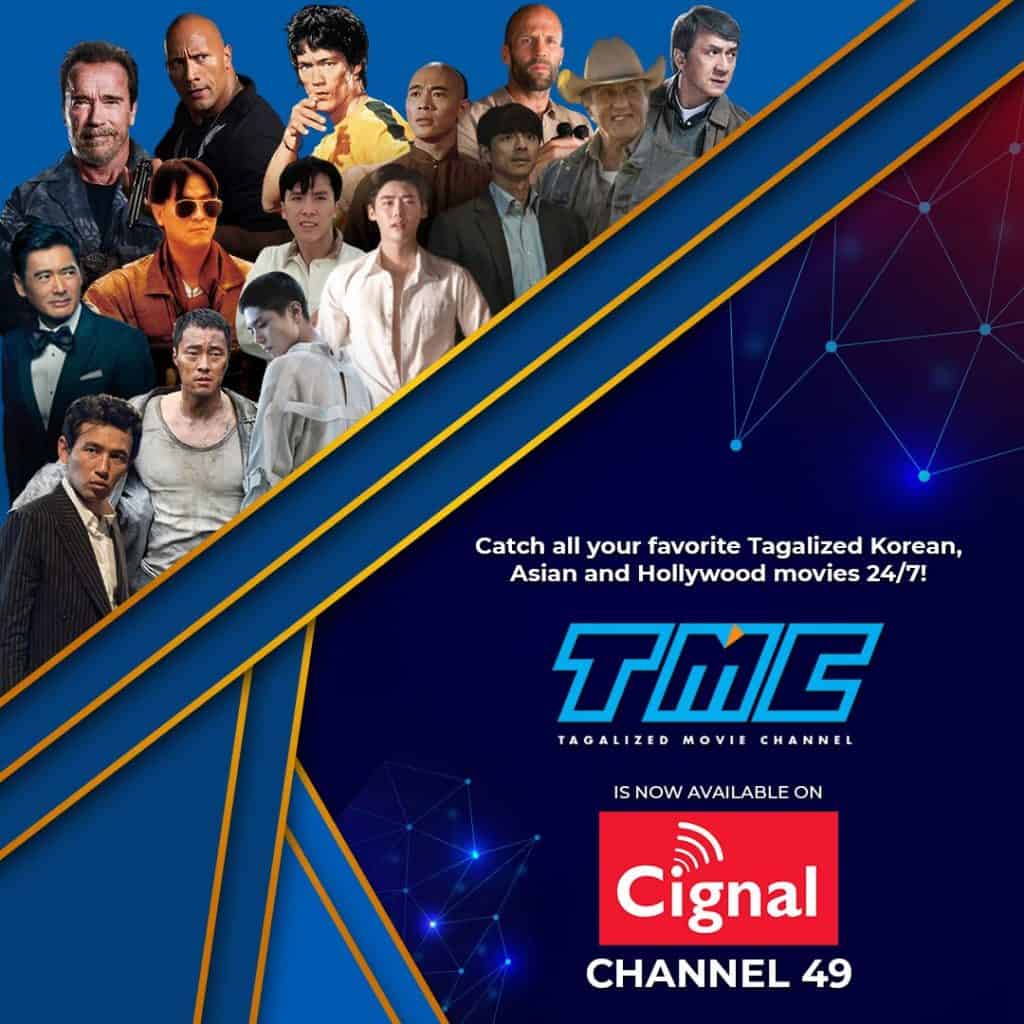 Hit movies and actors bring Asian Cinema to the forefront in Asia's Best, Wednesdays to Fridays, starting 6 pm to 8 pm. Catch a lot of exhilarating movies of Jackie Chan, Donnie Yen, Chow Yun Fat, Stephen Chow, Jet Li, and Bruce Lee.
8 pm is the best time to watch all Hollywood Hits until 10 pm from Wednesdays to Fridays. With the blockbuster Hollywood movies, you can watch the biggest names in global cinema like Sylvester Stallone, Arnold Schwarzenegger, Jason Statham, Jean Claude Van damme, Liam Neeson, and other A-list Hollywood actors.
All K-movie fans can now enjoy watching their favorite oppas and noonas in K-Nights starting 10 pm to 12 am, Wednesdays to Fridays. TMC gives us the biggest Korean library in one channel and presents the highest-grossing Korean cinema films, critically acclaimed movies, and award-winning stories. TMC will continue to showcase with the likes of "Deliver Us From Evil", "Parasite", "The Box", and a lot more. Catch also your favorite oppas like Park Seo Joon, Lee Jong-Suk, Kim Woo Bin, and Kang Ha Neul only here on TMC.
The weekend is perfect for a movie marathon. Every Saturday, 6 pm to 10 pm, there are three movies in a row of the breathtaking genre, noteworthy actor, and movie franchise.
It is a movie premiere every Sunday at 8 pm. For September premieres, don't miss "The Current War" on September 16, starring Hollywood superstars Tom Holland and Benedict Cumberbatch and "Take Point" premiering on September 26 which stars Korean prominent actors Lee Sun-kyun and Ha Jung-woo. Two other Korean movies will also premiere this month with Brothers in Heaven and Daddy You, Daughter Me on September 5 and 19, respectively.
This September, TMC is sure to keep your week pumped with these thrilling movies, especially now that they are shown on Cignal. Catch all Tagalized Asian, Hollywood, and Korean movies 24/7. Expect more this upcoming 'ber' months because TMC undoubtedly has more to show us. TMC will be available on Postpaid Plans 520 & up and Prepaid Loads 500 & up starting October 16, 2021. Mas Masaya 'Pag Tagalized!
Cignal TV was launched in 2009 and is currently the country's premier Pay TV provider, with over 3 million subscribers. It is the leader in Pay TV in the Philippines with its nationwide coverage and availability. Starting October 1, 2021, it will transmit up to 135 channels including free-to-air, SD and HD channels to household and commercial venues in the country. It also offers a mix of 17 audio channels and on-demand service through pay-per-view channels and content add-ons. Cignal is owned by Cignal TV, a subsidiary of MediaQuest Holdings, the media partner of PLDT Group.