After rumors of an observed trend that shows coronavirus (COVID-19) patients acquired the illness from grocery stores circulated on social media, the Philippine General Hospital (PGH) was quick to shut down the false news. 
Even Kapamilya TV host Alex Gonzaga was deceived by the information. Her now deleted post read: "Forwarded message: So far ang trend sa hospitals now is sa grocery nakukuha ang COVID-19, so if kayang magbulk-buy, yun na yung gawin. Then paki disinfect mga nabili delata etc. 1:9 ratio chlorox n water. 1cup chlorox 9 cups water. Paki share na lang." 
On April 4, the PGH released an advisory shutting down the information. They stressed that the important risk factors are still travel history from areas with local transmission and close contact with COVID-19 positive patients.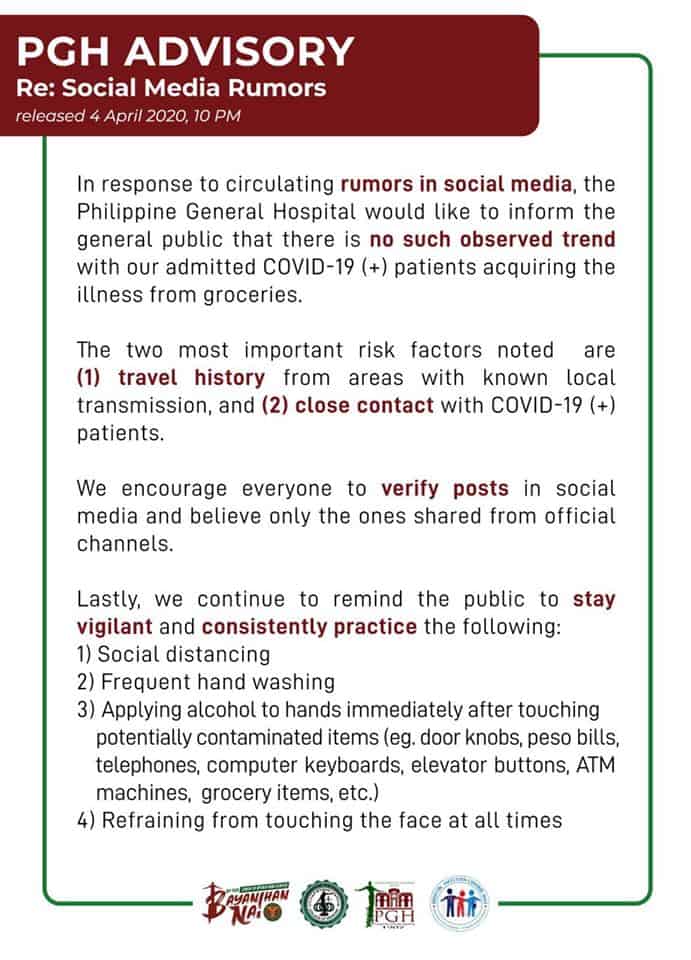 "In response to circulating rumors in social media, the Philippine General Hospital would like to inform the general public that there is no such observed trend with our admitted COVID-19 (+) patients acquiring illness from groceries," they said. 
The PGH also encouraged the public to verify posts in social media and rely on information shared by official channels.