Hayden Kho penned the sweetest message for his wife Vicki Belo on her 65th birthday. The happy husband took to social media to share the real reason why his wife never ages.
With a series of throwback photos, the 40-year-old Hayden said he noticed that while he looked older and older, Vicki stayed "as gorgeous and youthful as ever." 
"Yesterday we did a Body Test and my score was 54/100 while hers was 96/100! Amazing," he shared.
He then shared that perhaps the real reason why she never ages is because her heart is pure and childlike.  
"In everything she does she wants to honor God. She never compromises on truth and integrity. She's very generous and is always willing to help. She's an angel for many and a 'fairy godmother of beauty'," he wrote.
Under his thoughtful post, Vicki thanked him for making her feel like a princess on her special day.
"It's been almost 16 years but the 'kilig' is even better. Thank you for being the head of our family," she said.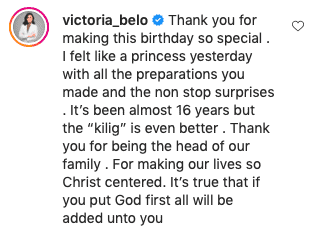 Meanwhile, the celebrity doctor's 5-year-old daughter greeted her mom a happy birthday on social media as well.
"She's a mommy like no other — always thinking about what I'd need and what would make me happy, and then giving up what she wants for my sake," Scarlet Snow wrote.