Coldplay is prepping a special treat for their Filipino fans. The British rock band is set to perform their latest single Higher Power on ABS-CBN's ASAP Natin 'To on July 11.
According to Warner Music, the recording label of the Coldplay, "The performance is exclusive to ASAP Natin 'To/ABS-CBN in the Philippines and to be streamed this Sunday."
Meanwhile, in a social media post, the group addressed their "Kapamilyas" as they invited them to watch out for the performance.
"Please watch out for it – it's a special one," they wrote.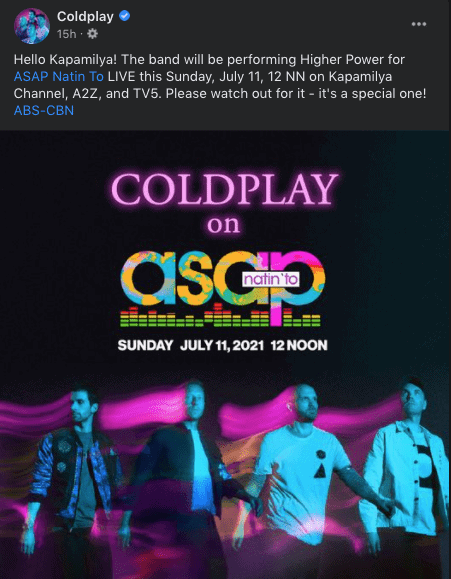 On ASAP's social media accounts, they shared a 15-second video of the band's vocalist Chris Martin and lead guitarist Jonny Buckland invited their fans to catch their performance of their latest single, Higher Power.
Higher Power and its music video was released on May 7, 2021. The jaw-dropping, intergalactic video was directed by Dave Meyers.
The superstar director shared: "The video is a metaphor for how, right now, we all feel alienated, far removed from our world, almost like we're on an alien planet. And ulitimately we find love in the streets and that euphoria shoots us off into the stratosphere of our own energy and power."
Watch the hit video here: