Kapamilya star Liza Soberano just said she would want to date Sana Minatozaki of K-pop girl group Twice in another lifetime when she's not in a relationship.
The 22-year-old actress declared this as she joined the "post a pic of" challenge on Instagram where a fan asked for a photo of her bias from the nine-member band. 
"In another life, where I'm single I would want to date her," wrote Liza alongside a selfie photo of the 24-year-old Japanese singer via an Instagram story on Saturday.
Liza quickly landed on Twitter's trending list and here's how some netizens from here and overseas reacted to her fangirling over Sana:
Liza and Sana are both included in the UK-based TC Candler's list of Most 100 Most Beautiful Faces in 2020, taking the 14th and 29th spots, respectively.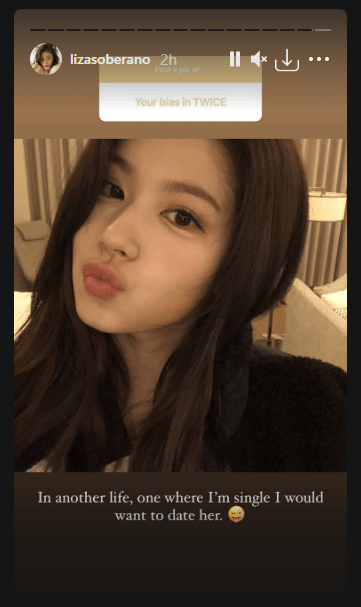 Liza also shared in her Instagram stories her bias from Blackpink and Itzy.
She called Blackpink Lisa as Little Miss Sunshine, saying: "I love watching videos of her when I'm feeling down."
She was also grateful for being able to meet Itzy members, especially her favorite Yuna, in person after a concert in the Philippines.
Meanwhile, the actress is going strong in her relationship with Enrique Gil who also shares his girlfriend's love for K-pop.