After posting a photo of her son with Cesar Montano, former Miss Earth Philippines Sandra Seifert responded to a netizen accusing her of being the woman in the viral video of the actor.
On Thursday, Sandra shared for the first time an Instagram pic of her five-year-old kid named Corinth Ian — fondly called Coco — hugging Cesar who, in turn, was kissing the boy's cheek. The post came with the caption: "Love Actually."
Netizens were quick to assume that the photo confirmed speculation that the veteran star is the father of her child.
A netizen, on the other hand, left a comment on Sandra's Instagram post, calling her names and accusing her of being the "woman in the viral video" with Cesar.
To recall, a birthday greeting video of Cesar to a barangay official sparked controversy in 2018 after a naked woman appeared in the background.
"So confirmed si Sandra nga ba ang kumabit kay Cesar at nasa viral video?? #kabit #imoral #pakawala #mistress #ahas ???," said the netizen.

Sandra calmly belied the netizen's accusation and told her to do her research instead.
"Sorry to disappoint you but I'm not the woman in the viral video. Pls do your research so you can find out who she is. ? God bless ??," said Sandra.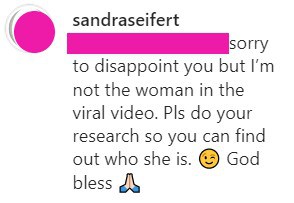 Reacting to netizens who slammed the comment, Sandra said, "It's quite unfortunate to see comments/behavior like this but hopefully it could be an opportunity for realization that it's not too late to improve on our character and choose to be a blessing to others."
Other commenters also left messages of support for the single mom's decision to post the picture.
After one encouraged not to worry over "anyone passing judgment on her feed," Sandra said, "This entire feed is a reflection of where all our hearts and our mental health is at… Truly, no one is perfect and we all having fixing to do. But it starts with recognizing this and wanting to be better each day and staying true to who you are.
"Most people nowadays are scared to be their true self… because they fear the judgment of others. Here are my two cents: as long as you are not hurting anyone and trying your best each day to do what's right and be a blessing to others you're on the right track.
"Finally, when you fall, get up and keep walking. God has prepared many more blessings for those who are ready to be their best version ???❤️?."
She also explained why she wasn't turning off the comments section of the post despite the bashers.
As of presstime, Cesar has not issued a statement regarding the picture.
He also did a "remake" of the viral video in another birthday greeting wherein he introduced the mystery woman but this time, fully dressed and "wholesome".