The Miss Universe Philippines (MUP) Organization shot "five different endings" featuring candidates not necessarily among the Top 5 finalists for the pageant's pre-taped grand finale today.
This was revealed by KC Montero, host of Miss Universe Philippines 2020 pageant, amid the alleged leak of "coronation" photos that spread on social media ahead of the telecast and livestream.
In the circulating pics, different candidates were seen wearing the "Filipina" crown.
"FYI for the people trying to ruin the Miss Universe Philippines Finale, we shot five different endings involving numerous candidates. Some of them were not even in the Top 5. Why are you trying to ruin this experience for other people?" the TV host posted on his Twitter and Instagram accounts on Saturday.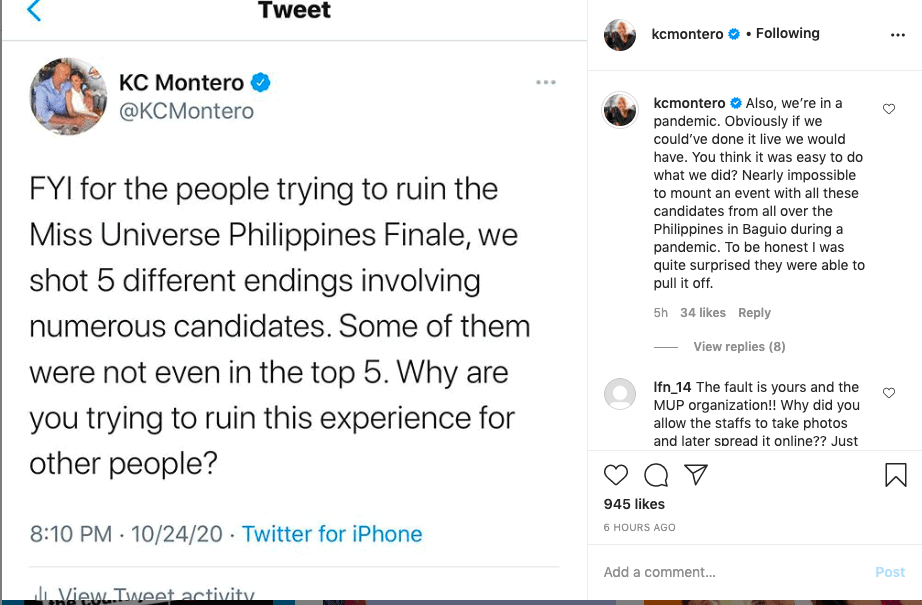 Popular shows often use this strategy of "multiple endings" to prevent spoilers online.
But some passionate pageant fans are still taking the alleged photo leak as a spoiler and blaming it on the organizers' decision to shoot the leading national pageant in advance rather than air it live.
Answering comments that flooded both of his social media accounts, KC stressed that staging a "live event of this size" in this time of the pandemic is "impossible" and "insane".
"It's not an excuse, it's the reality our situation," he told a netizen.
"Do you know how unbelievably hard and expensive it is to make a live event? You think they wanted to tape it? Obviously if they could have done it live, they would have," he told another commenter on his post.
Another netizen told KC, "The fault is yours and the MUP organization! Why did you allow the staffs (staff) to take photos and later spread (them) online? Just to make a clout and noise for MUP?"
"Hahahaha my fault? Like I'm the police while on stage hosting?" he responded.
"And what if the leaked photo turns out to be legit tomorrow?" a commenter asked KC.
"I never said they weren't, I also never said they were," he replied.
KC maintained,"Obviously, if we could've done it live we would have. You think it was easy to do what we did? Nearly impossible to mount an event with all these candidates from all over the Philippines in Baguio during a pandemic. To be honest, I was quite surprised they were able to pull it off."
In a previous Instagram post, the regular pageant host shared how excited he was to host and watch the Miss Universe Philippines 2020 in Baguio City.
"Heading up to the City of Pines now to host @themissuniverseph. This will be such a fun night to host and especially watch. I consider pageant hosting as one of the things that I'm pretty good at.
"With everything that is going on right now it's almost a miracle that this event is actually taking place. So a big hats off the the @themissuniverseph @empiretv.ph @jonasempire.ph for all the hard work and preparations that went into this.
"Most importantly the safety measures that were followed to ensure a safe and healthy work environment."
The pageant's telecast is scheduled this Sunday, October 25, 9 a.m. on GMA with streaming available at 10:30 a.m. on Empire.ph, KTX.ph and TFC.
The preliminary competition and coronation event were filmed this weekend at the Cordillera Convention Hall, Baguio Country Club in Baguio.
The 2020 pageant is the first edition of the Miss Universe Philippines under a new organization led by former Miss U Philippines Shamcey Supsup.
RELATED: