After Love Thy Woman star Christopher de Leon's revelation that he tested positive for coronavirus (COVID-19) on Tuesday night, ABS-CBN has advised the cast and crew of the teleserye to undergo self-quarantine.
In a statement released to the media Wednesday, the network said, "Following the announcement of Christopher de Leon that he has tested positive for COVID-19, we have advised those who who might have interacted with him during the tapings of Love Thy Woman in the last two weeks to undergo self-quarantine." 
"While we have stopped the tapings of all our teleseryes, we will continue to monitor their situation and provide the necessary assistance and support to those who are affected. The safety of our artists, crew, production teams, and their families are important to us," the statement further said.
Meanwhile, De Leon's co-stars took to social media to voice out their support for the 63-year-old actor.
Zsa Zsa Padilla said she was offering prayers for De Leon and his family. She also added that all of the cast and crew of the ABS-CBN series are already undergoing quarantine.
"Praying for Kuya Boyet and his family. All co actors/staff and crew of #LTW are already on quarantine so taking lots of fluids, Vit C and some exercise. Thanks for everyone who texted and messaged," she said in a tweet.
Sunshine Cruz shared her message via an Instagram story: "Get well soon Kuya Boyet!!! Let's all pray for his quick recovery!"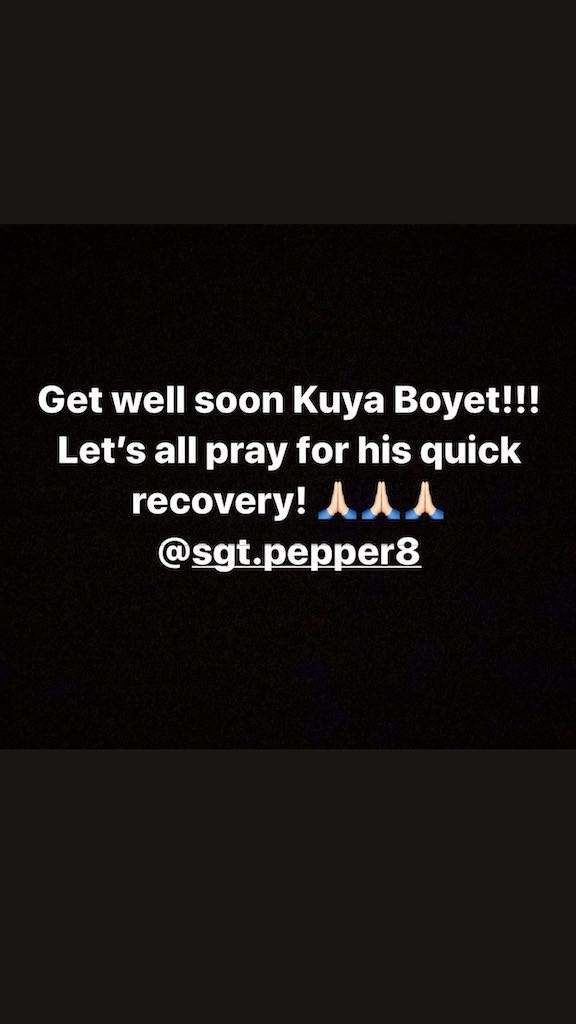 Kim Chiu, who plays one of De Leon's daughters in the series, also showed support through an IG story.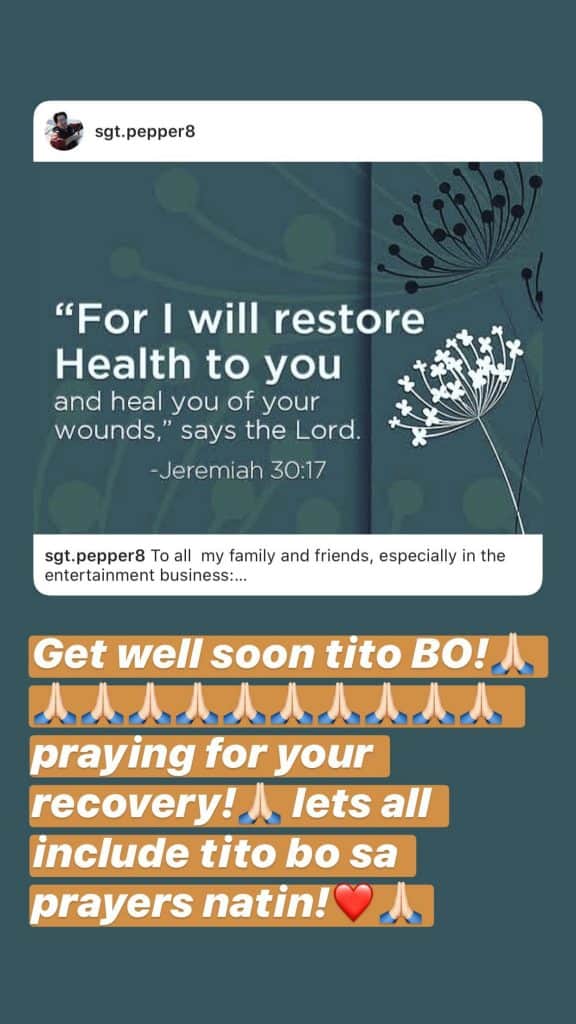 "Get well soon Tito Bo! Praying for your recovery! Let's all include Tito Boy sa prayers natin."
On Tuesday, the veteran actor shocked the showbiz community with the announcement that he tested positive for the virus, but has no idea how and where he contracted it. He said he had no recent travel history outside of the Philippines and no known contact with anyone who is positive to have the virus.
He nevertheless said he has interacted with a lot of people because of the nature of his job, which is showbiz. "I therefore ask anyone who has come in contact me within the last week or two to observe stringent self-quarantine, observe for symptoms and follow the triage procedures published by the DOH, whether asymptomatic or not. Please cooperate with the authorities in their contact tracing efforts. My wife Sandy, daughter Mica & our kasambahay are in self quarantine at home. In this time of trial, we ask for your prayers and we continue to praise and thank the Lord for His goodness in our lives," he said.
ABS-CBN earlier suspended teleserye tapings in line with the imposition of the community quarantine in Metro Manila.
As of writing, there are 193 confirmed cases of COVID-19 in the Philippines. De Leon is the first Filipino celebrity known to be dealing with the virus.