ABS-CBN has announced that it will temporarily stop the staging of live entertainment programs and filming of teleseryes as Metro Manila enters into a month-long "community quarantine" to cope with the (COVID-19) crisis.
In a statement sent to the press Friday night, the Kapamilya network said, "ABS-CBN is temporarily suspending the staging of its live entertainment shows and production of its teleseryes starting March 15 in compliance with the government's declaration of a community quarantine and ban on mass gatherings to contain the spread of the COVID-19."
The company has taken the initiative for the "safety and health of our artists, crew, production teams, their families and the general public."
The network plans to air reruns of previous shows while quarantine is in place.
"While this measure is in place, ABS-CBN will continue to serve our audiences by bringing back well-loved shows to help provide inspiration, hope and upliftment," the statement said.
It also indicated that there will be no changes in its news programming.
"We assure the public that ABS-CBN will continue to bring the latest news and information through our TV and radio newscasts and digital platforms, especially at this time when the country is facing a public health crisis. We thank your Kapamilya viewers for their understanding and continued support," it ended.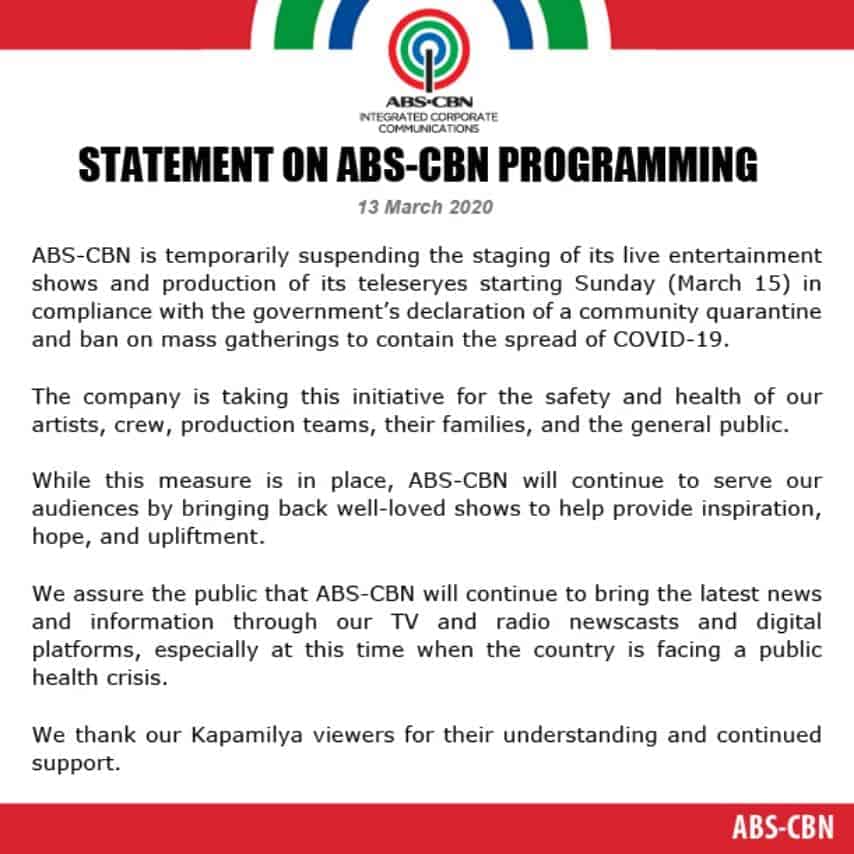 ABS-CBN's move to suspend shoots is also in line with Film Development Council of the Philippines' memorandum of order for the audio-visual industry following the declaration of the state of the public emergency in the country.
The FDCP said, "As a preventive measure, all production shoots, or tapings of films, TV programs or audio-visual contents in Metro Manila are highly discouraged as they constitute mass gatherings that are highly susceptible to transmission of the virus."