The newly appointed police chief of a town in Cebu has caught the attention of netizens.
Police Captain Elstone Dabon Jr. will replace Major Ildefonso Miranda Jr. as the new chief of Argao Police Station after the latter was relieved from his post and arrested on Thursday night for allegedly sleeping with a 23-year-old female detainee at his quarters, Cebu news outlets reported.
According to Bohol Island News, Dabon was a former deputy station commander at Abellana Police Station and was also assigned at Regional Intelligence Division in Central Visayas (RID-7).
Photos of Dabon circulated online and netizens were quick to notice the 25-year-old police official's appointment, but his apparently good looks drew the most comments.

Others dropped a friendly reminder that the police chief is already "taken".
Some just left hilarious comments.

Others also advised him not to be like the former police chief.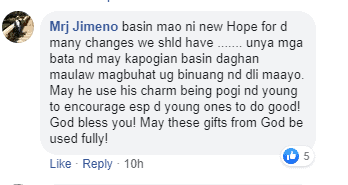 Meanwhile, a netizen stressed that "it is not the face that counts but his performance as chief of police".