A Filipino surfer broke the internet on Friday for his inspiring display of sportsmanship in the Southeast Asian Games (SEAG).
Filipino netizens were filled with #PinoyPride after local surfer Roger Casugay chose to abandon the race for gold in the men's longboard open competition for surfing in San Juan, La Union, in order to help his Indonesian rival Arip Nurhidayat.
The Indonesian athlete's surfing board leash had snapped in the heat of the competition, with the massive waves sweeping him away.
Roger, the nearest surfer, was seen coming to the rescue to Arip and together, they paddled back to the shore sharing one surfboard and even tandem surfing at one point. They arrived to a cheering crowd and raised each other's hands in the air. It captured the true spirit of the games and made a perfect "We Win As One" moment.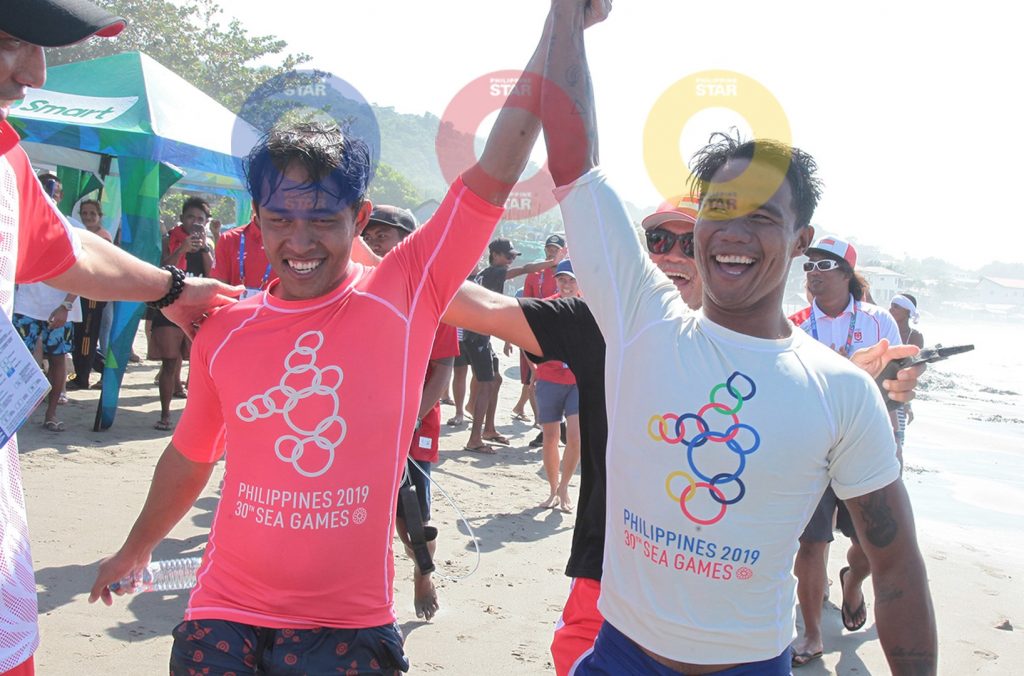 Shared on Philippine Star's Facebook page, the PSN Latest Chika story about the heroic act — easily one of the highlights of the 30th SEAG — has since generated over 18K reactions, 600 comments and 5,000 shares.
The longboard competition has been put on hold pending further announcement. But going by the reactions, Roger Casugay is already a winner, with or without the gold medal.
Interestingly, the surfer is no stranger to going viral online.

Back in 2017, Roger went viral for his love story. This, after photos of the surfer with his then foreigner girlfriend, a Dutch national named Lisa Verweij, were circulated on social media.
The photos drew mixed reactions that the original uploader Migs Caño wrote a lengthy post that celebrated at the same time defended them from bashers.
She wrote in the 2017 post: "Sabi ko, don't mind them, it doesn't matter what color or appearance a person (may) have, if the hypothalamus strikes your ego everything will fall. You don't care about the others because that is love, you can't teach your feelings. Just be happy and stay in love. Anyway you look good together because people who understand see the love."
Because of their "unique" love story, they were even featured in a Kapuso Mo Jessica Soho (KMJS) episode titled "Ang Nobya Kong Foreigner" in October 2017, where they talked about how they met through, what else, but surfing.
Roger learned how to surf as young as five years old and eventually became a surfing instructor in his hometown in La Union, where he taught and and then fell in love with Lisa, who at that time was on vacation from an internship at an NGO in Cebu.
In the KMJS interview, Lisa said, "I checked my phone, what's this? Oh my God, what is going on here? Our photos they are everywhere, I was already surprised about it. Because why is it shared so much, liked so much? We're just, you know, a couple and we're in love."
"I'm really happy that I'm here with him. He needs to follow his dreams, I need to. But I think we have dreams together. We don't know what the future will bring us. But I think together, we can make it happen," Lisa also said in the same interview.
Based on their social media posts, they are still very much together and engaged to be married. And it appears that she's there every step of the way of Roger's SEA Games journey. He's "winning" not only in the sport that he loves, but also in love. As they say, "Sana all!"