The Barretto family feud continues to rage on as Gretchen Barretto also took to Instagram to respond to her sister Marjorie's post.
Earlier today, Marjorie called out her sisters for allegedly feeding the press false statements, following reports about two incidents of confrontation that happened at the wake of their father, Miguel Barretto.
The Barretto family patriarch passed away last Tuesday, October 15, at the age of 82.
The first incident reportedly happened last Wednesday night when Gretchen visited the wake of her father, and around the same time Pres. Duterte and some politicians were at the Heritage Memorial Park in Taguig to pay their last respects to the Barretto family patriarch. It's no showbiz secret that Gretchen has long been estranged from members of her family, only reconciling with younger sister Claudine this year.
Another confrontation allegedly took place at the wake Thursday night, this time between Marjorie and Claudine.
Sharing short videos wherein Duterte and his presidential security can be seen in the midst of the reported heated encounter, and quoting some lines from Marjorie's Instagram post, Gretchen wrote that she will also "speak the truth and nothing but the truth."
She leveled some serious allegations against her sister, saying that their mom Inday Barretto has spoken to her and "assured everyone that she will tell all regarding our family feud and the day of my dad's birthday and who caused my father's attack."
Read the full Instagram post below:
She also posted Instagram stories alluding to the feud.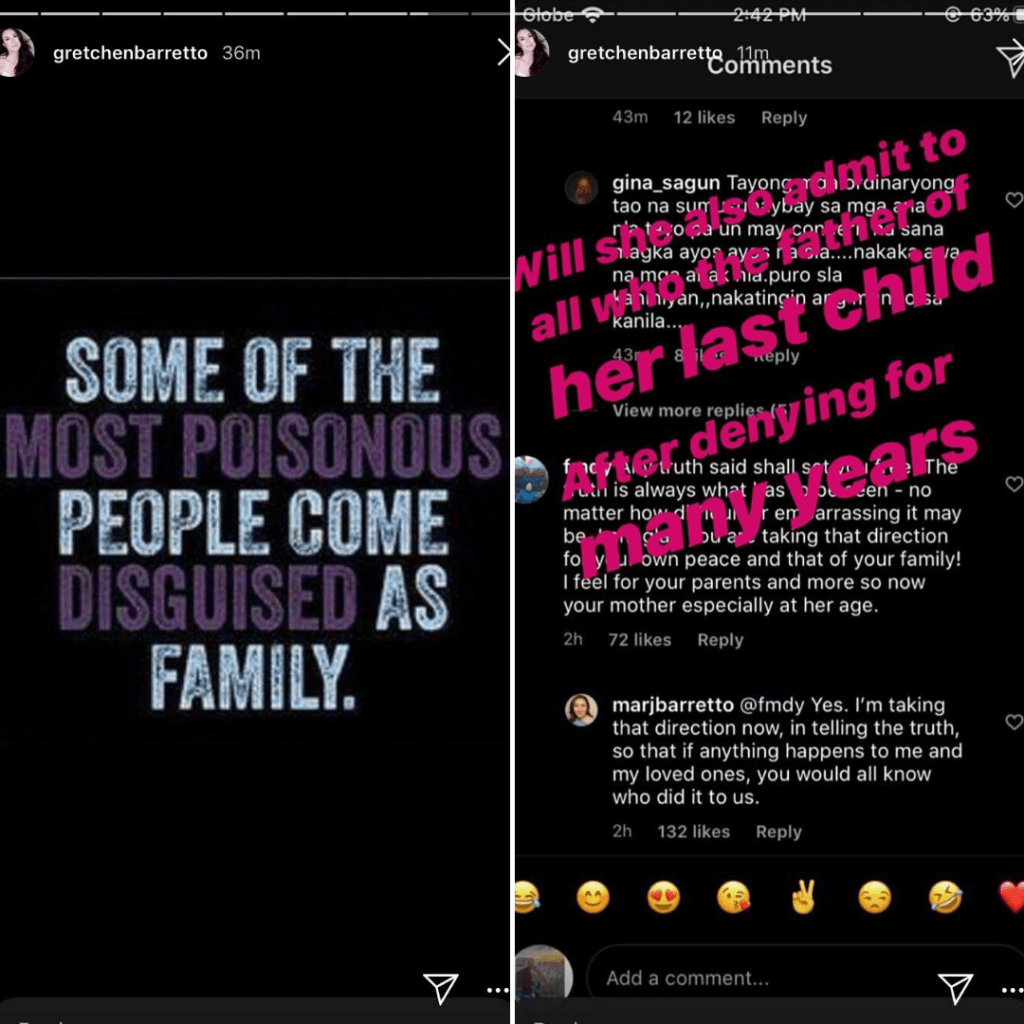 Earlier in her own Instagram post, Marjorie told her followers: "Don't be fooled by the statements of my sisters, they are leaving out a very important detail of what really caused pain and tension in the wake."
She also asked the public to reserve their judgment, as she promised to tell all after their father is laid to rest. She also requested them to "allow our family to grieve."
"May I request everyone to allow our family to grieve, it's our last day with our father today. Please hold your judgement and opinions until he is laid to rest, then WE WILL FOR THE FIRST TIME SPEAK THE WHOLE TRUTH AND NOTHING BUT THE TRUTH. I would like to ask for prayers too. Because when I speak the truth, my life and my children's life will be put in danger. My sister's boyfriend is powerful in a very bad way (and I don't mean Tony Boy) And in speaking the truth I won't be able to leave his name out."