Jennie of Blackpink and V of BTS courted dating rumors anew after they were spotted on an alleged "date night" in Paris.
The Kpop superstars were filmed talking and holding hands while strolling the streets of the City of Love as seen in clips shared by French journalist and photographer Amar Taoualit on social media.
After being bombarded with messages online, Taoualit confirmed that Jennie and V are the ones in the video as he "simply filmed well-known personalities in the usual context of my work as a journalist".
Taoualit also shared that he belatedly posted the video of Jennie and V so as not to bother the rumored couple.
"I specify that this video dates from before yesterday (Monday night May 15) and that I posted it today so that they are not bothered," Taoualit said in an Instagram story.
"The quality is bad because I didn't plan to see them in front of me and I didn't have my camera. I was walking around in Paris and so I filmed on the iPhone," he further explained.
"And yes I saw them well Jennie and V I confirm. Now we are waiting if there will be a confirmation from the Idols if they are together or not!," said Taoualit.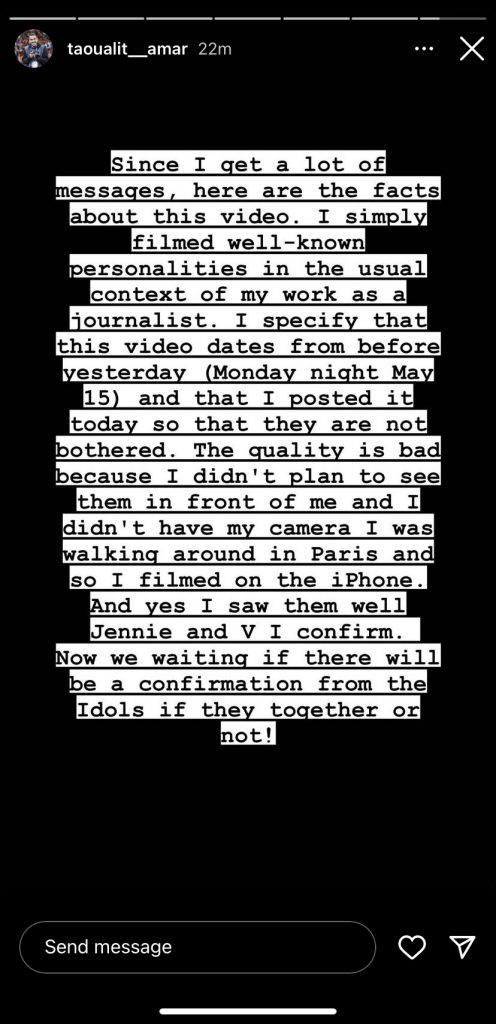 Taoualit also reposted an Instagram story of a paparazzi friend showing a photo of V wearing the identical fit he was wearing in the video.
While fans are still left speculating if the two are really in a relationship, Blackpink's agency, YG Entertainment, and BTS' agency HYBE, briefly commented on the matter.
"It is difficult to check [regarding this matter]," YG Entertainment and HYBE were quoted as saying in a report by media outlet Sports Seoul.
Jennie and V sparked dating rumors in May 2022 when alleged photos of them vacationing in Jeju Island circulated online. Neither YG Entertainment nor HYBE agency, addressed the allegations at the time.
Although YG released a statement warning to take legal actions against those who leaked personal photos of Jennie.