Kim Chiu expressed relief and gratefulness that Lakam, her older sister who suddenly got hospitalized last week, finally regained consciousness. 
Kim celebrated her birthday (April 19) differently this year after spending it at the hospital following her sibling's health scare.
"Kung may hihingin man akong regalo sa inyo ngayon yun ay prayers para sa ate Lakam ko. Everything happened in a snap of a finger. She is my strength, and now the word strength becomes blurry. Please pray for her recovery," wrote Kim.
Through an Instagram story on Monday, Kim thanked those who offered prayers for her sister who at the time was transferred from the intensive care unit to a normal room, but had yet to regain consciousness.  
"Thank you for all your prayers for my ate Lakam.Sorry I was not able to reply to each one of you. She is out of ICU last night. She is transferred to a normal room," wrote Kim.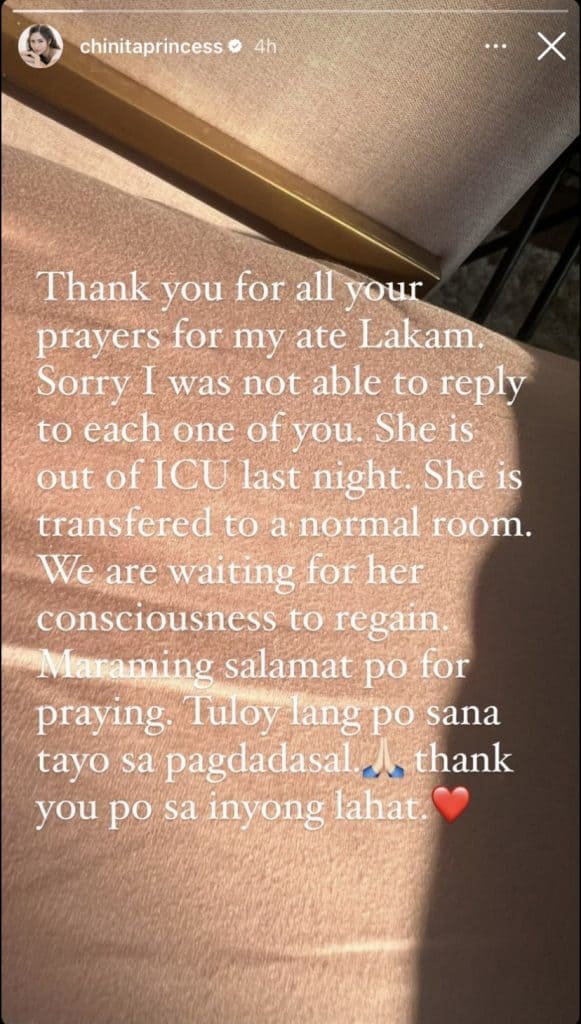 She added, "We are waiting for her [to regain consciousness]. Maraming salamat po for praying. Tuloy lang po sana tavo sa pagdadasal… Thank you po sa inyong lahat."
On Tuesday, Kim gave an update about her sister's condition, sharing the good news that she already gained consciousness.
"Good morning! Praise Lord Jesus. Finally had the best sleep after a week of sleepless nights. Yesterday, bf spent the entire afternoon at the Padre Pio Church, right after went back to the hospital then I was shocked my ate called me and ask what happened?"
"Truly faith is the most powerful weapon we all have. Thank you Lord my ate is slowly recovering day by day," she added.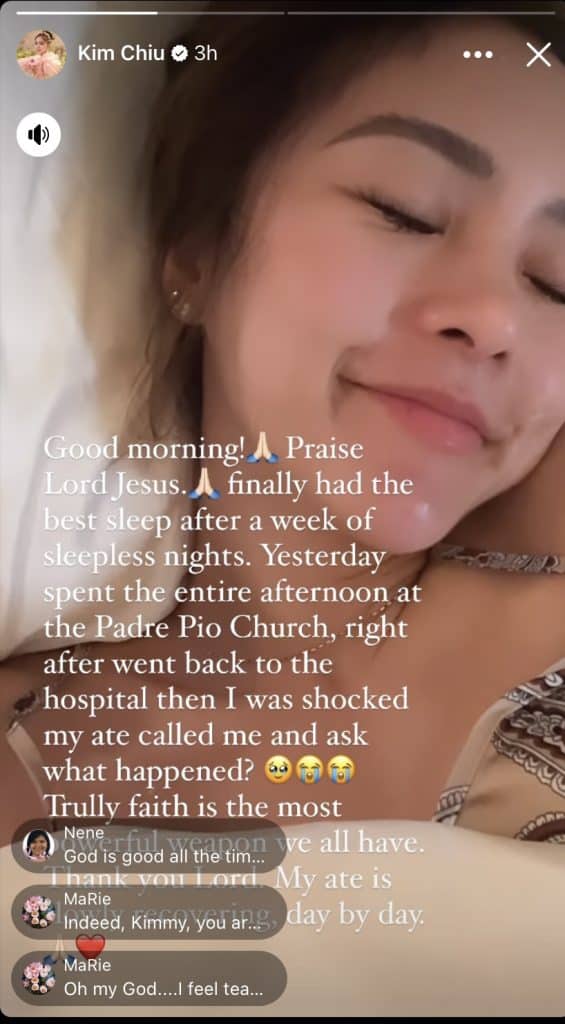 Kim added that doctors believe her sister's quick recovery is a miracle.
"A thank you to everyone who prayed for my ate," said the It's Showtime host.
Kim, a devotee of Padre Pio, ended her note with a quote from the Italian priest and saint: "Pray, hope and do not worry."