Filipino-American YouTube star Bretman Rock revealed that he is finally coming back to Philippines to launch his book titled, You're That B*tch: & Other Cute Lessons About Being Unapologetically Yourself.
In an Instagram story on Thursday, Bretman shared the official poster of his two-day book tour in Manila on March 4 at the Mega Fashion Hall, SM Megamall and March 5 at the Music Hall, SM Mall Of Asia.
A total of 150 fans from each venue can win one signing slot during the book launch, which includes Bretman's signature at the book and one photo with him. His book will be soon available on National Bookstore for ₱1,595.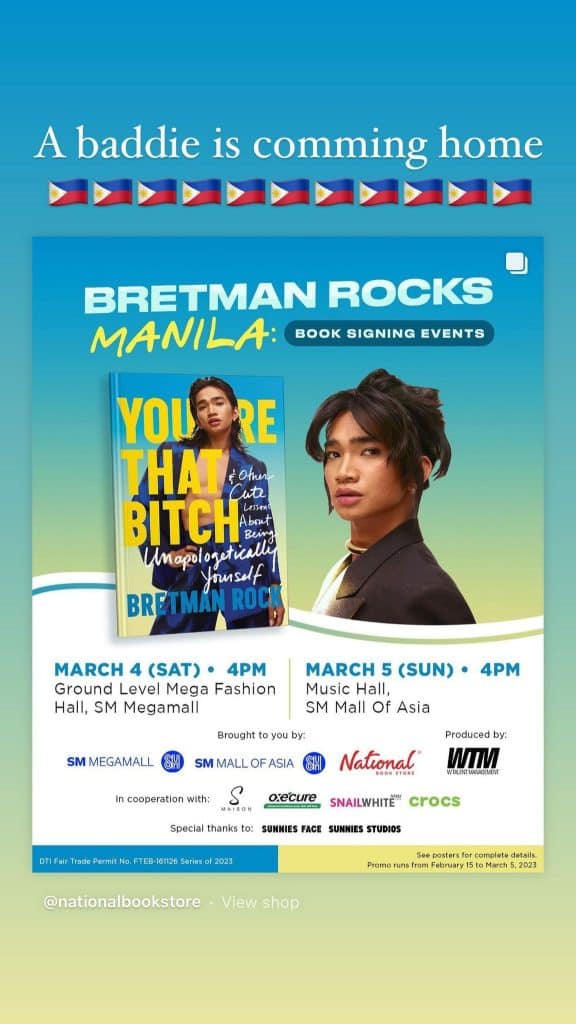 "So excited for y'all to read all about Bretman Rock Sacayanan," he said in a separate Instagram post.
Bretman's first memoir will tackle how his childhood in the Philippines, his family, Filipino heritage, and being a first-generation immigrant helped shape him into who he is today.
"You're That Bitch reflects all sides of me: I am Bretman Rock, the entertainer and an extrovert, but sometimes I also just wanna be Bretman Sacayanan in my crop top and shorts, eating my lunch unbothered. I'm just an ordinary gorl. At the same time, I'm also that bitch every minute, meaning I'm always authentically me," the book's intro page reads.
Bretman spent some of his childhood years in Cagayan before he migrated to Hawaii when he was seven years old. His career as a YouTuber started with makeup videos in 2016. He last visited the country in November 2019 for his father's wake.