Former beauty queen MJ Lastimosa clapped back at a netizen who seemingly taunted her for going under the knife.
"Parehas retokada? lol," read the netizen's comment on a video of MJ with "lookalike" Miss Earth 2022 Indira Perez Meneses of Mexico. 
The Miss Universe Philippines 2014 then responded in the affirmative, "Yes, I can afford (wink emoji)."
"MJ Lastimosa I never said you can't afford, you definitely can… with all your resources. No question with that at all my dear MJ," the netizen replied back.
To which the Mj countered, "So what's the point with your comment madam its almost 2023 wake upppp."
MJ shared a screenshot of the aforementioned exchange alongside her recollection of how she suffered bullying way back in 2011. 
"Ma'am Cedric I was bullied in 2011 for having veneers and boobs and waist that's too small, (apparently they insisted I took off my rib but since my waist is not that small anymore I probably grew them back, alien yarn) and that was okay.
"I survived it! But this mindset as we welcome 2023? Eww," she quipped.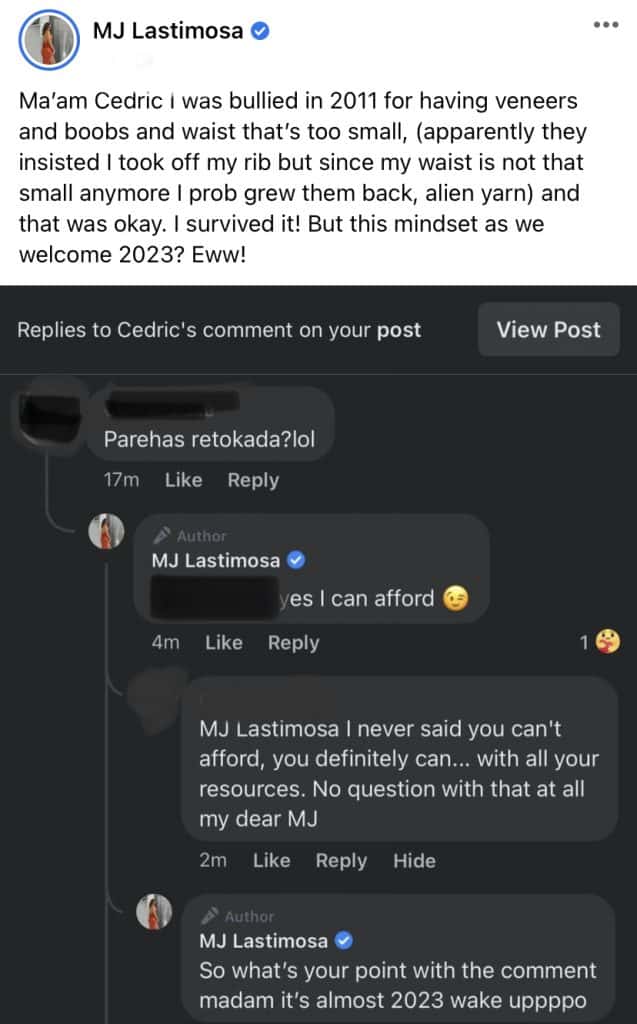 MJ previously revealed undergoing body "enhancements" in an interview on Tapatan ni Tunying in 2014, saying she saw nothing wrong about it. 
"My teeth and skin were enhanced. I had to undergo laser treatments and the like.
"If it does not give you bad effects, I don't think there is something wrong."