Fans have raised speculations that James Reid's Careless Music is working on a collaboration with South Korean agency Starship Entertainment.
According to the Instagram Stories of Careless Music CEO Jeffrey Oh from July 4, James paid a visit to Starship Entertainment along with the actress Liza Soberano, who recently joined the label.
Oh captioned the photo "Careless X Starship" without providing any other information on the meeting. In Oh's Instagram story, he mentioned Careless artist Liza Soberano, Transparent Arts co-CEO Kirby Lee, and DJ Virman of the Asian-American hip hop group Far East Movement.
The South Korean company Starship Entertainment is the home of famous K-pop groups Monsta X, WJSN (Cosmic Girls), and IVE.
Moreover, Instagram user porksterr 천우 MARK, who's an apparent friend of James, hinted at another collaboration between James and GOT7's BamBam on his Instagram Stories. He tagged James, BamBam, and the Korean singer Yoon Junwoo in the picture, which featured hands on top of one another.
Liza and Nancy from MOMOLAND were tagged on the Instagram story too.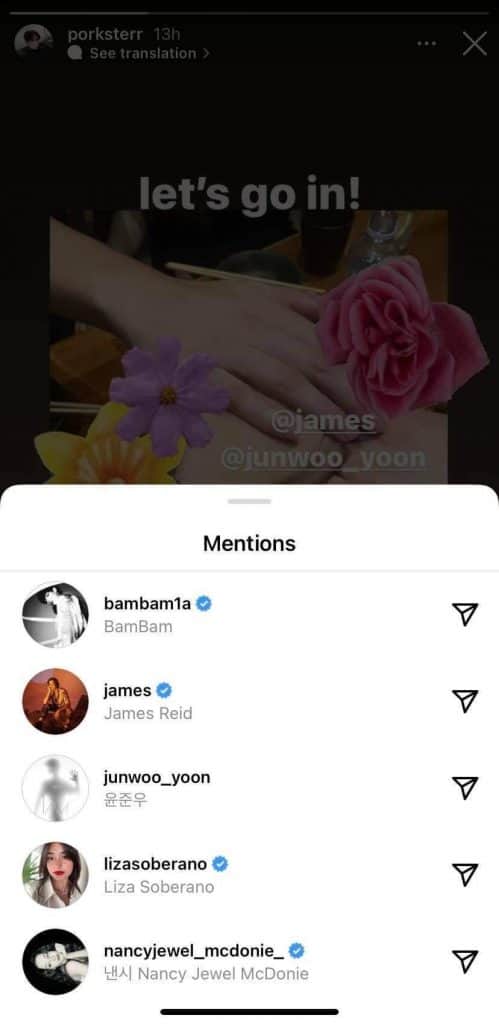 James was also spotted recently with singer-songwriter and record producer Chancellor.
"Great finally meeting you [James]. Amazing how music brought us to reconnect with each other after all these years! Life is crazy! Let's get to work" Chancellor wrote in the caption.
Chancellor has previously worked with K-pop stars Kang Daniel and Block B's P.O.
If the speculations would be proven true, this wouldn't be Careless Music's first time working with K-pop stars.
James released "Hello 2.0 (Legends Only)" in March 2022 which features Tawainese-American rapper ØZI and Jay B from the renowned K-pop group GOT7.