Filmmaker Lauren Greenfield took to her social media accounts on Saturday to call out an electronic billboard's use of Imelda Marcos' photograph which was featured in The Kingmaker, her documentary about the political career of the former first lady.
The director first posted on Twitter to say that her image was stolen and that whoever did so, "clearly" does not understand copyright.
In the Twitter thread, she sought help on finding the owner of the electronic billboard and the building involved, which was located in Makati.
About an hour later, Greenfield also made an Instagram post to call out the use of the photograph, tagging the Instagram account of Digital Out of Home PH, the advertising company that operates the electronic billboard.
"A billboard company in the Philippines just brazenly stole my image of Imelda Marcos. Does anyone know who runs this operation, that call themselves Digital Out Of Home @doohph?" she wrote.
Soon after, the director of the "The Kingmaker" also took to Facebook to issue a statement.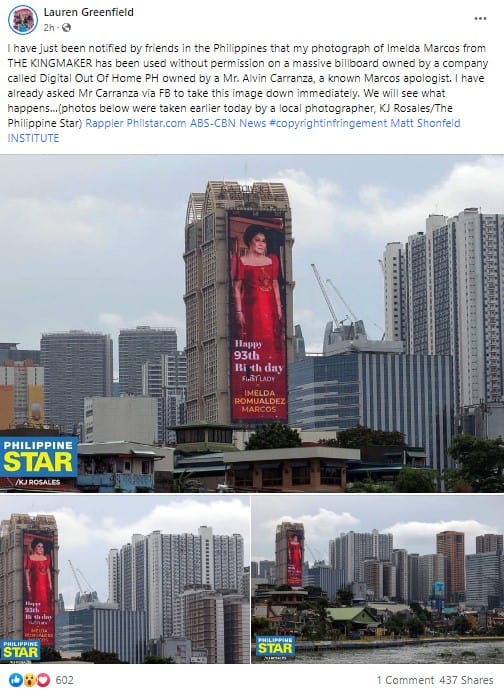 Greenfield said that she has been notified by her friends in the country about the use of Imelda's image seen in The Kingmaker for a billboard.
She then clarified that the photograph was used without her permission by Digital Out Of Home PH which was owned by one Alvin Carranza, who she also claimed was a "known Marcos apologist."
"I have already asked Mr Carranza via FB to take this image down immediately. We will see what happens," the film director also wrote.
As of writing, Digital Out Of Home PH have yet to issue a statement in response to Greenfield's statements.
Meanwhile, the said electronic billboard in celebration of Imelda's birthday also drew reactions from netizens, who corrected and poked fun at its typographical error.
Theater actress Gab Pangilinan and voice talent Inka Magnaye also made tweets in reference to the billboard's typographical errors.