While Pia Wurtzbach and her fiancé Jeremy Jauncey both lead glamorous careers, it seems like the Scottish businessman possesses an equally impressive family background.
In an Instagram story she posted on Wednesday, June 29 (Manila time), the Miss Universe 2015 shared a photo of her hand while wearing Jeremy's signet ring engraved with his family's crest.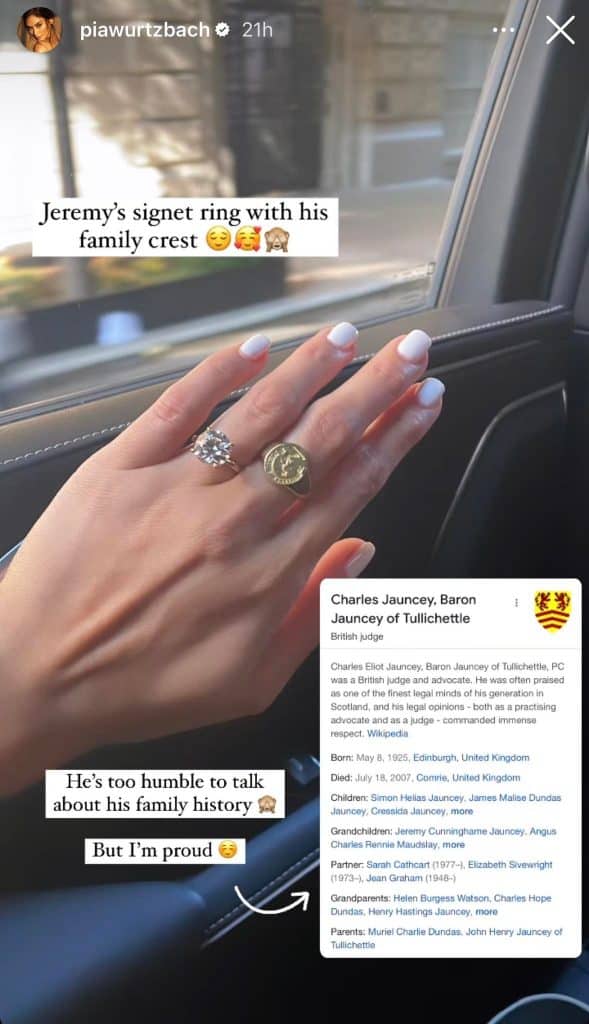 The 32-year-old beauty queen then shared some amazing facts about her fiancé's family lineage by including a screenshot of Jeremy's family history.
Based on Pia's post, Jeremy, whose full name is Jeremy Cunninghame Jauncey, is a grandchild of Charles Jauncey, Baron Jauncey of Tullichettle, who was a British judge and advocate.
Jeremy's grandfather was also renowned in Scotland's legal profession for being "one of the finest legal minds of his generation," according to her same post.
Jeremy, however, has not been vocal on sharing these amazing facts about his family, Pia said.
"He's too humble to talk about his family history. But I'm proud," the beauty queen wrote.
More than having an impressive family background, Jeremy has been highly-accomplished as the founder and chief executive officer of Beautiful Destinations, a multi-platform business that posts travel and lifestyle content.
Pia and Jeremy confirmed their engagement back in May this year through Instagram.
Early this month, the beauty queen also took to Twitter to say that she plans to have a private and intimate ceremony for their wedding but has no other plans yet.
READ: Pia Wurtzbach and Jeremy Jauncey are engaged!