Grab Philippines has stated that it is conducting an investigation into a video of a customer who got into an altercation with a food delivery rider for having no spare change with him.
A video of a customer's heated argument with a Grab food rider recently made rounds online after the former allegedly manhandled the latter during the confrontation.
In the more than two minute footage, the customer got enraged after the latter allegedly told him that he had no change for his P1,000 cash.
The tension escalated after the customer continued to raise his voice and shoved the delivery rider several times, forcing the customer's wife to meddle in the fight. 
The video which has garnered 3.8 million views in the Facebook page Mike motovlogPH as of writing, has elicited comments from netizens who aired their dismay over the customer's actions.
The viral video has also called the attention of Grab Philippines that stated that they do not tolerate such consumer behavior and is already looking into the incident.
"Thank you for bringing this to our attention. Rest assured that this consumer behavior is not tolerated on our platform and investigation is already underway."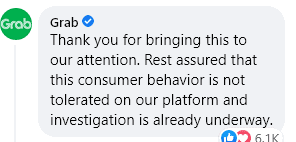 "Consumer behavior is not tolerated on our platform. Our teams are already looking into it and are coordinating with the parties involved," Grab stated in a response to netizen's comment on their Facebook page.