By The Philippine STAR Social Media Team
Before the pandemic, The Philippine STAR Social Media Team would always celebrate our Christmas party "potluck style." When we started working from home, organizing events at the office and finding time to cook became more difficult.
After missing out on many office potlucks, work anniversaries, and other celebrations in the past two years, we made sure that our first get-together since the pandemic will bring back the joy of reuniting with officemates while ensuring practicality and everyone's safety.
Luckily, there is one app that can cater to all our Christmas Party needs — from food, utensils, giveaways, and even Christmas decorations!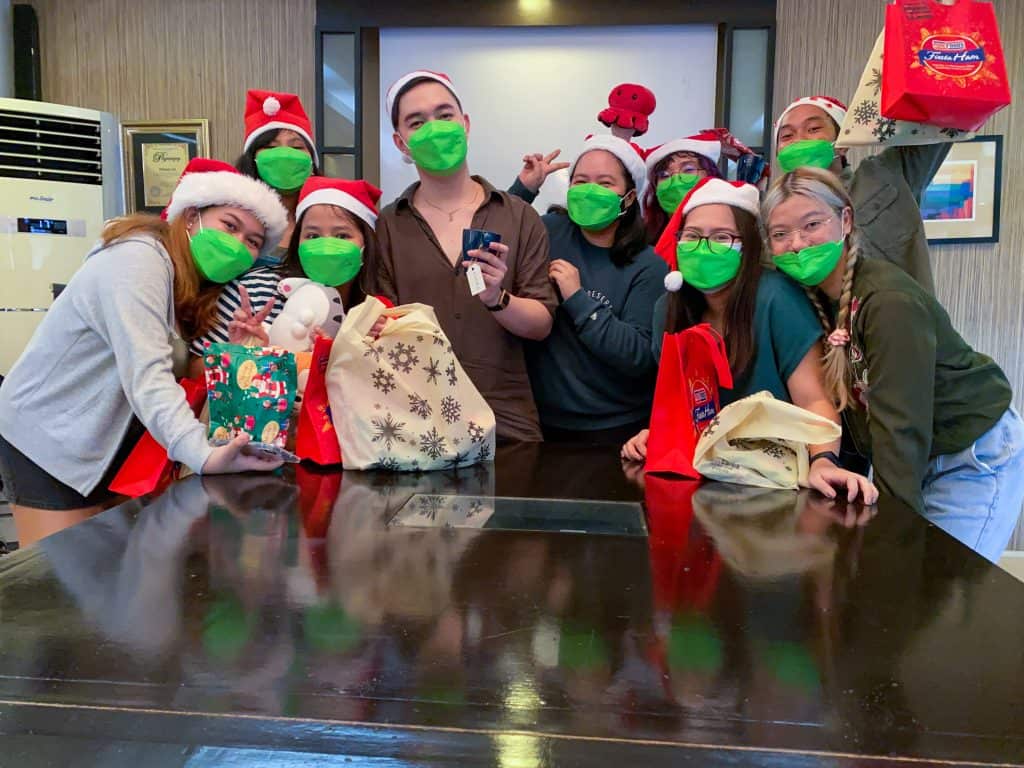 HASSLE-FREE SALU-SALO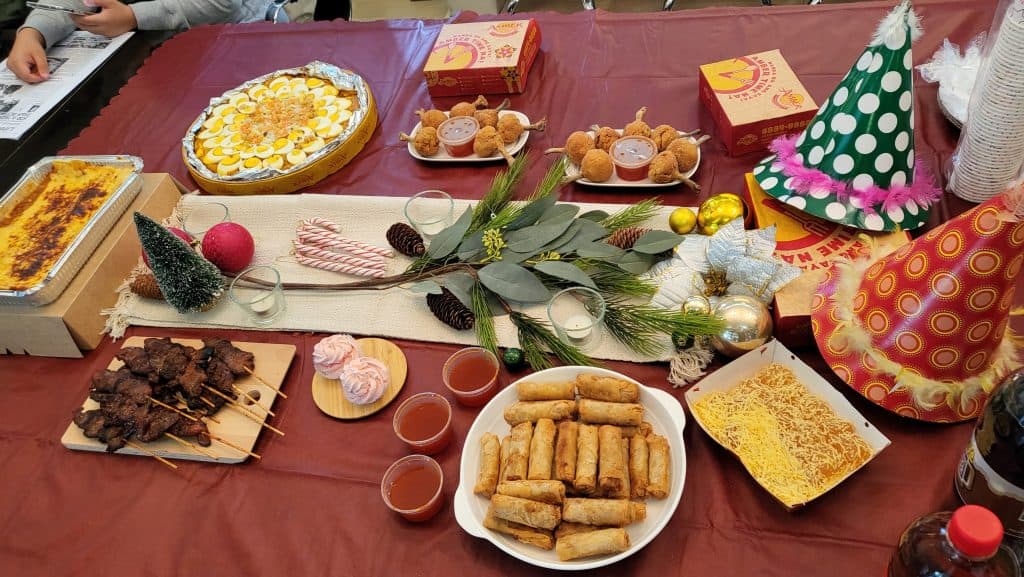 What's an office Christmas party without pancit, barbecue, and lumpiang shanghai?! GrabFood has a wide variety of food choices for every craving, and it got us covered in this department. For our salu-salo, we decided to order our classic favorites from Amber's ahead of our party: The Original Pancit Malabon, Pichi-Pichi with Cheese, Pork Barbecue, Chicken Lollipop, and Fried Lumpiang Shanghai.
Grab also has the option to order the food in advance so we no longer have to stress about where to order on the day of the event. To save some coins for our beverage, we opted to order soda and bottled water in bulk at a nearby supermarket in the office thru Grab Express Pabili.
SKIP GROCERY LINES
Christmas parties wouldn't be complete without giveaways and games, right? Good thing, GrabMart has all the essentials we need for our noche buena bags and prizes. It is indeed a super app! In a matter of 60 minutes, our shopping list was completed and delivered right to our office doorstep!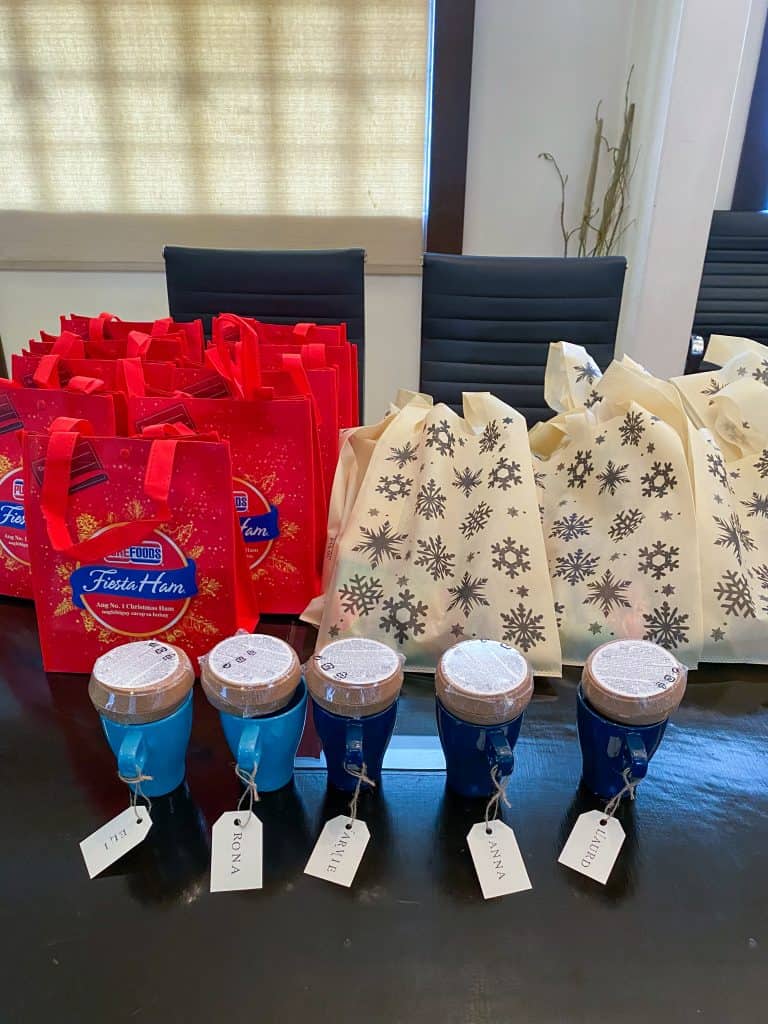 With the help of the friendly Kuya riders, we were able to skip the long lines at the grocery store and save our energy for the "serious" competition in the parlor games!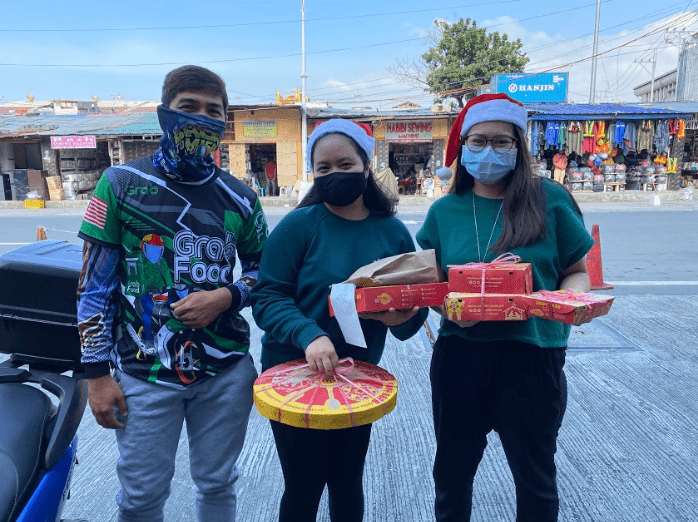 NEW, CRAZY GAMES TO TRY
This year, instead of doing the usual games like Chubby Bunny, Pinoy Henyo, Trip to Jerusalem, and Bring Me, we went to TikTok and Facebook to look for trending and crazy parlor game ideas. Our assistant social media producers are here to share the best ones that we tried!
Match the Hand and Foot Prints!
Laurd: This game can be easily referred to as the next-level version of hopscotch or piko. It will test your flexibility as you need to hop your way to the goal using both of your hands and feet. Players also need to make sure that they will jump their way to the finish line the way they are pictured in the course. The fastest player to reach the goal will be crowned as champion of the game. This game is perfect to kickstart the celebration as it would set the mood of the party. As a very competitive person, I really had a pleasant experience with this game. Just a little tip, if you're confident of your speed and flexibility, go first. But if you want to be smart and weed out all your competition, go last.
Giant Tic-Tac-Toe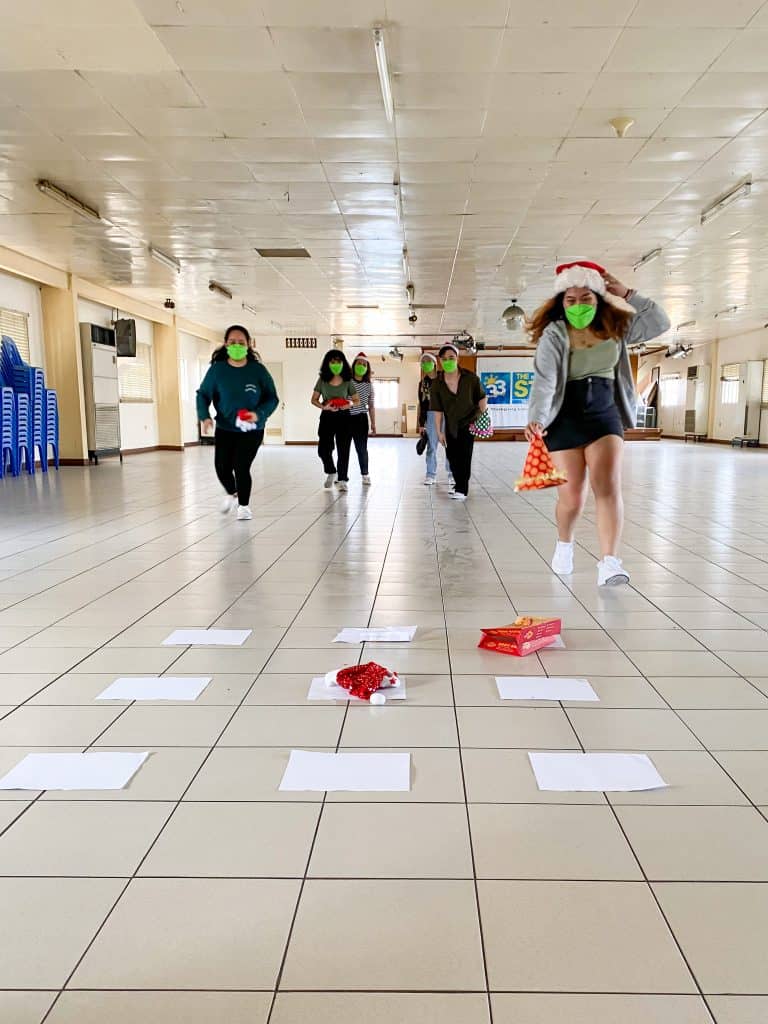 Rona: Looking for a game that will bring out your team's competitive spirit and wits? Try the classic tic-tac-toe with a "giant" twist! Grab six things and blank scratch papers that will serve as your pieces and board respectively. Divide the team into two groups. Each player must put a piece on the board. The first team to make a row (up, down, across, or diagonally) wins the game. This game really awakened the Leo energy in me and my team. I will never forget Elijah and Laurd's "Face to Face" moment!
Hadouken the Candle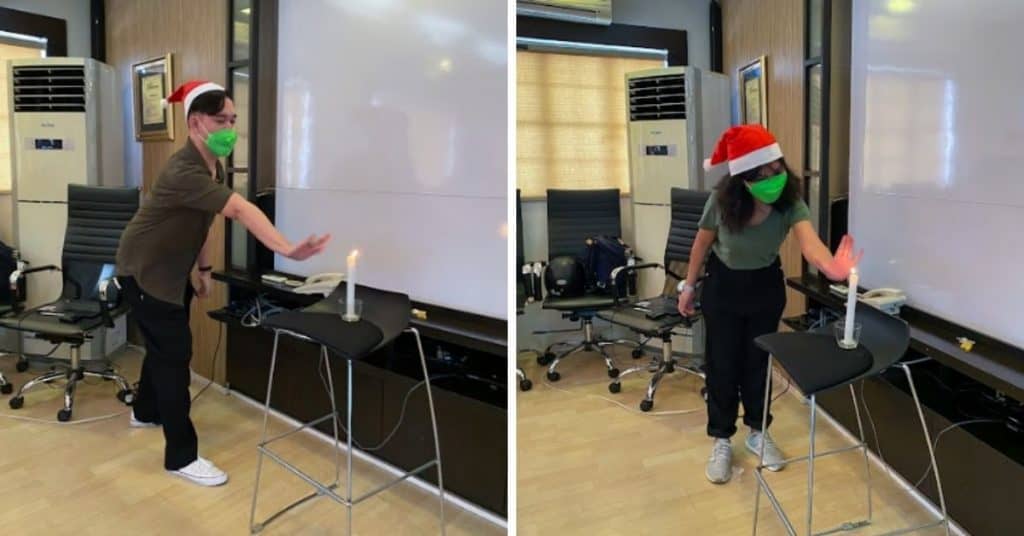 Elijah: Fire bending is fun when you have strong wrists! In the Hadouken candle game, the player must put out the candle light by mimicking the "Hadouken" pose with one hand. The player that puts out the fire the quickest wins. This game was not easy, but it made me laugh the most!
Twerk the Balls Out!
Anna: This hilarious game indeed sets a wild and funny atmosphere in events like Christmas parties because your twerking skills will make you win or lose. For this game, you should twerk all the balls out of the box tied around your waist as fast as you can. I like this game because it boosted my competitiveness while enjoying the groovy background music. Hearing my colleagues cheering and laughing also gave me motivation to win and have fun.
Toss the Cup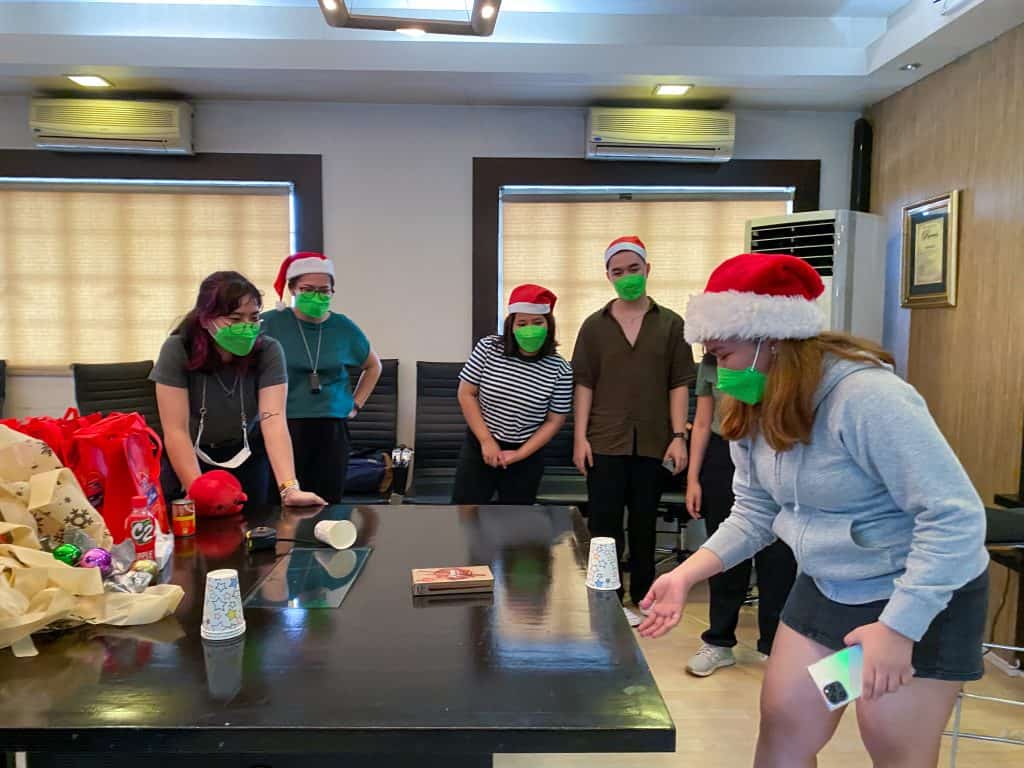 Anna: If you want to experience a "Minute to Win It" kind of game, then you should try the toss cup challenge. You just need to flip an empty cup upside down on the table. Perhaps the tip for this game is: concentration is key! Although it was exciting to play, I think this game is a bit difficult to master. You should also have that luck to toss the cup perfectly in order to win the prize. Unfortunately and expectedly, I lost in this game.
Don't Spill the Water!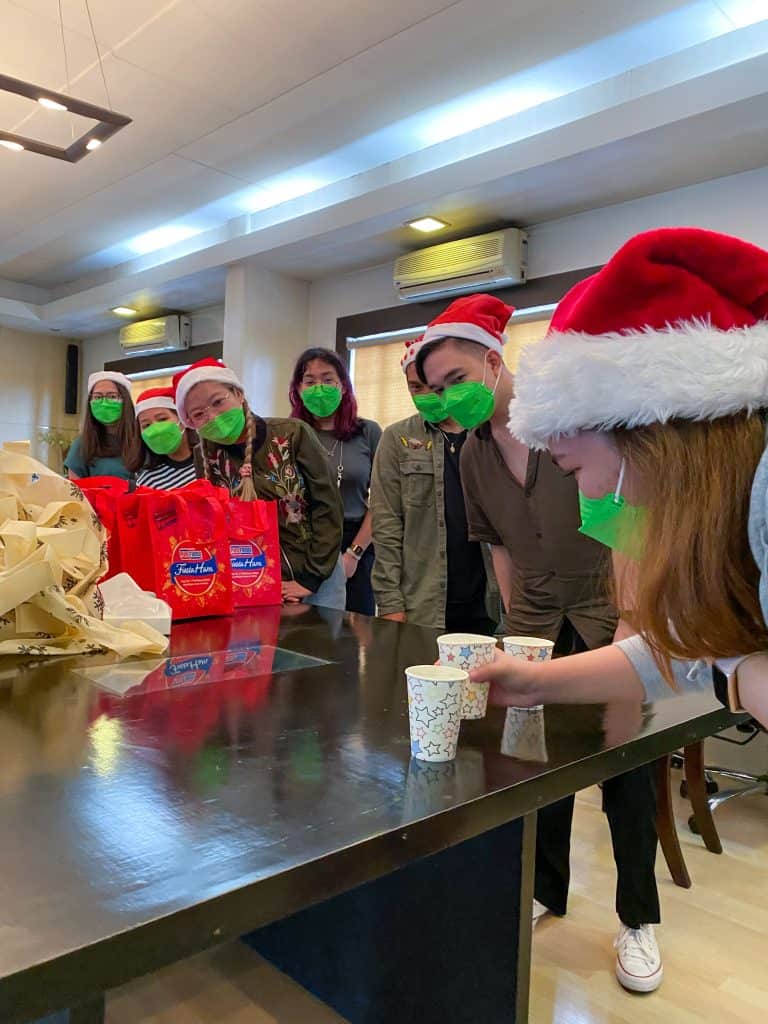 Laurd: If you're on TikTok, then you're probably familiar with this game. Unlike the majority of the games we played at the party, this one was a little more chill but that does not mean that it was any less exciting! In fact, this game was probably the most nerve-wracking one! To play this game, you just need to have two glasses of water. Each player will have a turn in pouring the water into the other glass. The challenge is to make sure that the water will not spill in your turn. This game requires composure so you have to be relaxed when pouring the water. We really enjoyed this one, hearing others cheer for you to fail was hysterically funny. I literally cannot wait to do this in our own family Christmas celebration!
A MEMORABLE EXPERIENCE FOR EVERYONE
Pau: December has been a crazy month for our team and I thought we wouldn't be able to pull off this celebration! Luckily, it is now possible to check off our holiday errands with just a click on an app. I really enjoyed setting up our space with decor pieces we got from Dapitan Arcade thru Grab Express Pabili. Also, finally seeing our team eating together at the table really warmed my heart!
Arjane: It was great to see members of our team in person and just be with them. It was our first time to see each other outside the virtual world. We played a lot of games and it was overall fun! My whole body ached that night because of the physical activities but it was all worth it!
Janelle: After almost a year of staying and working at home due to the pandemic, it was an unforgettable experience for all of us, considering that it was our first Christmas party together. The gathering paved the way to finally interact and get to know each other in person. Not to mention the hassle-free preparation for the special day after Grab got us all covered! It was a day full of laughter and fun. Indeed, it makes us even stronger as a team and an extended family.
Lyka:I really had a great time reuniting with my colleagues after not seeing each other for a long time amid the COVID-19 pandemic. Even if it was my first time meeting some of them in person, I didn't have a hard time getting along with them in the fun-filled activities and memorable salu-salo. Thanks to Grab, we had less worries, more fun in preparing for this festivity.
Arvie: As a newly hired video producer, it was the perfect time for me to meet and get to know my colleagues better. At first it was awkward because it's our first time seeing each other. But when the party started, we got along with each other really well.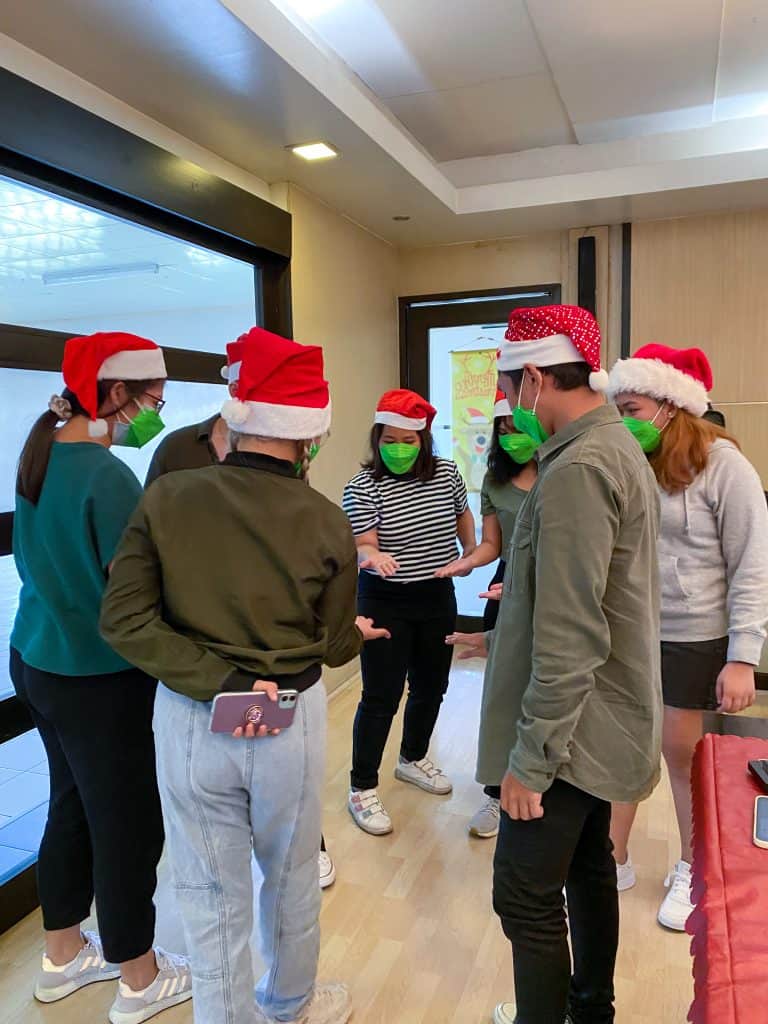 Anna: This year's Christmas party of the Philippine STAR social media team is one of the major highlights of my 2021. I experienced again the bonding and celebration of the holiday season that I look forward to, hoping that this pandemic will end soon. We were used to interacting virtually, and I was glad to meet my colleagues in person.
Rona: If there's one essential thing that the pandemic stole from us, it's human interaction. Team Social's Christmas party gave me a chance to feel what it's like to be in the old normal even just for a short while. We were able to bond without any problem as food was delivered right to our doorstep. Thanks to Grab, I also arrived on time at our office. Our team was able to spend more time getting to know each other. I mean, who would have thought that most of us were great at twerking right?
Elijah: Having interned digitally for The Philippine STAR, I never had the pleasure of meeting my colleagues up until now. Being able to finally meet them and celebrate became therapeutic in a way considering how we're all used to working within the four walls of our bedrooms. Getting to know people surely isn't a walk in the park especially when we do it digitally. The laughter-filled celebration paved the way for me to actually get to know the people I work with better and I can't wait for the next time we meet.
Laurd: It was the first time I laughed that much in the last two years. I have to say, taking a break from the online setup was the best early-Christmas gift I received this year. For the last two years, I would only go out of my home to shop for groceries or to have my dog groomed. So this was really the first time I went out for real. The party was one for the books, it was really great to finally meet my colleagues in person and to have a day filled with joy and craziness. After the party, in spite of having a lot of baggage, I got home without any trouble and inconvenience, all thanks to Grab.