Daniel Padilla has something to say about Kingdom of Jesus Christ, The Name Above Every Name (KJC) founder Apollo Quiboloy's sex trafficking charges in the US.  
United States prosecutors announced that the Davao-based megachurch leader and President Rodrigo Duterte's spiritual adviser was indicted with sex trafficking charges, along with two other top officials of his church.
Fans of Daniel were surprised when the Kapamilya actor reacted to a news story about the pastor's indictment on social media.  
"Isa isa ng tinatawag ni Satanas," he commented on a post by ABS-CBN News.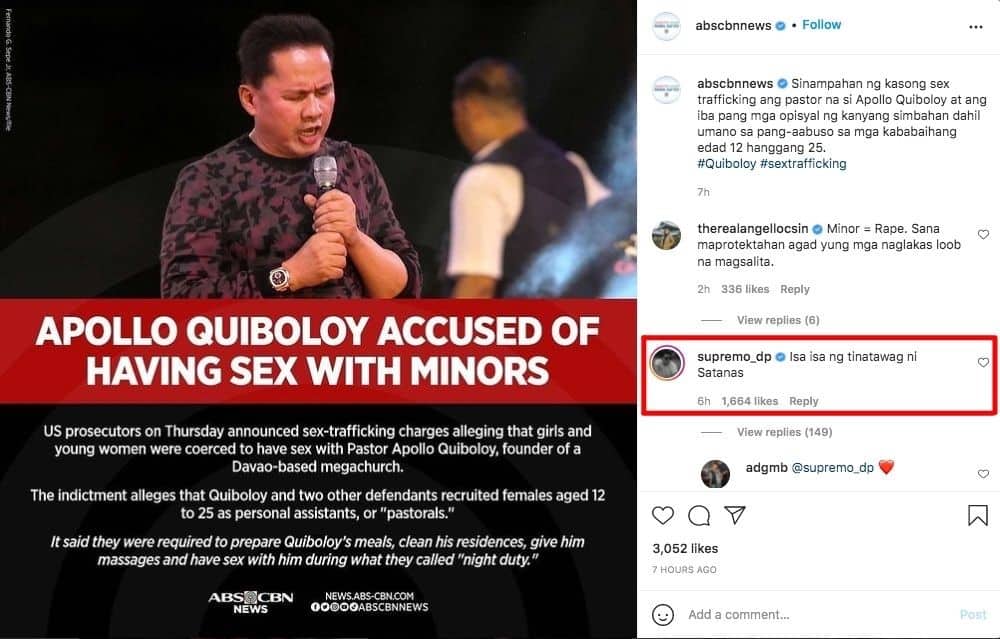 Actress Angel Locsin left a comment on the post, expressing her hope that the victims should be protected.  
Quiboloy was accused of coercing young girls and women to have sex with him. Females aged 12 to 25 were hired to work as "pastorals" who prepared his meals, cleaned his residences, gave him massages, and were required to sleep with him during their "night duty".
Five females, three of which were minors, allegedly fell victim to the supposed sex trafficking scheme.
The KJC legal counsel has already issued an official statement expressing their support for Quiboloy and their two other leaders involved whom they said were "maliciously accused in this present controversy."
They called the charges as "another vicious attempt to bring down" the religious leader.
"We are confident and ready to face whatever is hurled against Pastor Quiboloy and the Kingdom leaders," they said.