Alice Dixson got her second jab of Pfizer-BioNTech's COVID-19 vaccine in the city of Manila.  
On Instagram, the veteran actress shared that she is now fully vaccinated after receiving her second dose of COVID-19 vaccine.
The 51-year-old's post was met with mixed reactions from netizens who claimed that she jumped the vaccination line and those who defended her, saying that she was accommodated by the city of Manila because she already had her first dose abroad.
"I feel bad for the ordinary citizens that badly needed it and can't have the chance for the really good vaccines cause its been given to people who were not even on the high risk," a netizen commented.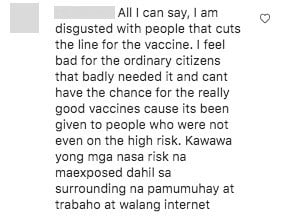 Meanwhile, a netizen defended her for following the timeline of her vaccination.
"Kasi may timeline yan na sinusunod e. Magiging baliwala ang 1st dose kung hindi masunod ang 2nd dose," they said.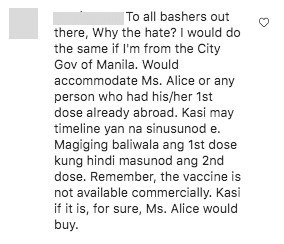 Alice had her first jab of the American-German made vaccine in Canada back in April. In her past Instagram post sharing this moment, she asked her followers if the same vaccine is already available in the country.