Former beauty queen MJ Lastimosa has spoken up after a video where she compared Thailand's Miss Universe candidate Amanda Obdam to 2018 Miss U winner Catriona Gray went viral online.
The preliminary competition for the 2020 Miss Universe pageant kicked off Saturday, where candidates paraded in their swimsuits and evening gowns.
A video where Amanda can be seen showing off her runway walk while wearing a two-piece gown made rounds online after MJ was heard commenting "Ay Catriona" referring to Catriona's iconic "slow-mo-twirl".
Another clip also surfaced where MJ stressed that Amanda seemed to have copied and studied Catriona's moves while the Thai candidate strutted in her swimsuit.
One netizen then called out MJ for being "quarrelsome".
MJ responded to the netizen's comment saying that she was not trying to pick a fight with anyone, but simply made the statement based on her observations.
"Hindi po ako nangaaway normal naman pagaralan mga past queens. I just can see cat on her I also watched cat live in Thailand eh. I also studied Dayana Mendoza love her to death," MJ wrote in a tweet.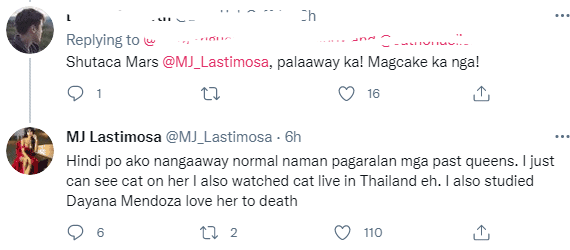 MJ, who represented the Philippines in the Miss U pageant back in 2014, has been expressing her support for Philippine bet Rabiya Mateo, both in person and on social media.
She recently came to the defense of Rabiya following the criticisms over her performance in the national competition on Friday.