Angeli Pangilinan has revealed that she's currently in isolation after testing positive for COVID-19. She also asked for prayers that husband Gary Valenciano, given his history of health issues, will be spared from the virus.
In an Instagram post, the talent manager shared that after decades of being married to the veteran singer, who has had different health challenges over their course of their relationship, Angeli has come to accept that this is another trial that they have to overcome together.
"Guess why I posted this? Here I am isolated because I am Covid positive. I should be afraid right? But I am married to a man who has had Type1 diabetes for 42 years. Who has had multiple seizures due to hypoglycemia. Hepatitis. Orthroscopic surgery on his knees. Tuberculosis. Cardiac double Bypass / open heart surgery. Kidney cancer. Partial nephrectomy surgery. Whew. So having gone through all that with him, I know that this is just another trial that we will overcome together," she said.
Angeli also had health challenges in the past but is entrusting her current situation to her faith yet again.
"And I had a scoliosis spine surgery in Hong Kong in 1986. They implanted two rods on my spine. Excruciating pain. So this is just another hurdle that I know I will leap over! Love you all. ❤️❤️❤️"I can do all things through Christ who strengthens me." Philippians 4:13."
She then appealed to followers for prayers that Gary V, who has comorbidities, doesn't get infected with the virus.
"Please pray that Gary doesn't get it. I don't mind getting it for as long as he is spared from this disease," she said.
Angeli didn't say how she contracted the virus but she reminded people to continue observing health protocols.
"STAY HOME. WEAR A MASK AND A FACE SHIELD. WASH HANDS REGULARLY. And EVEN IF YOU ARE FAMILY MEMBERS IF YOU GO OUT WITH 'SWABBED' FRIENDS, DO ALL THESE AND PRACTICE SOCIAL DISTANCING! ❤️❤️❤️"
Meanwhile, Angeli shared how Gary V has been lifting up his wife's spirits.
In a comment, she thanked him for "bringing my papaya, bananas and hot water to the tray outside haha".
In her Instagram stories, they could be seen face-timing with Gary serenading his wife with his new song.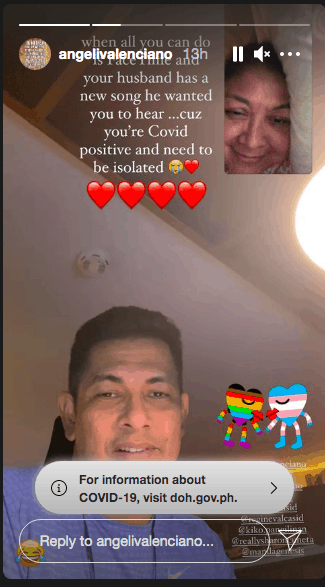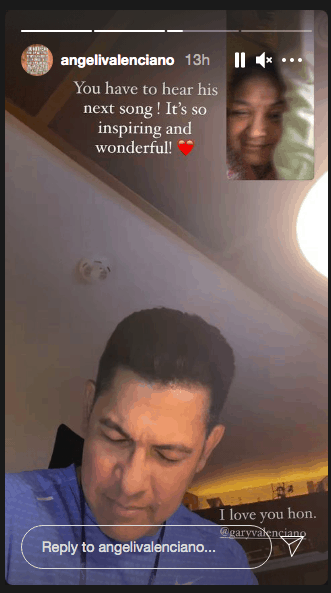 Gary told his wife, "Love you hon! Am here for you but only in spirit!"