KC Concepcion had a simple but effective response to a netizen who commented on her makeup look.
The actress shared a short snippet of herself getting her hair and makeup done for a project. In an Instagram post, she talked about her experience to finally work on set again. 
"Interrupting my Stay at Home content with one post of me on set — was so nervous to go back to working on location, thanks to the rise in cases in the Philippines, but the crew swabbed, wore masks…" she wrote.  
One netizen who caught KC's attention said her look was similar to that of a drag queen.
She simply replied with: "Lol drag queens are amazing."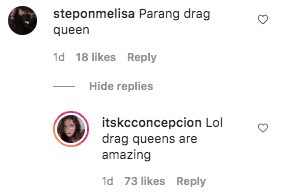 Another netizen commented on her appearance, saying she looked like Hollywood reality star Khloe Kardashian because of her "protruding lips".
KC plainly thanked the netizen and noted that she was using an Instagram filter on her video.
"Thanks! I think she's beautiful and I love this Tinkerbell filter!" she responded.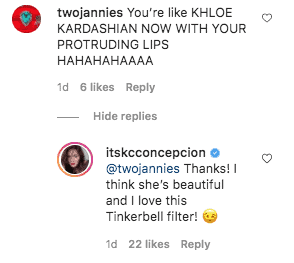 Others who didn't seem to notice that she was using a filter said they missed the old KC with her simple style.