Mariel Rodriguez-Padilla took to social media to put an end to the "baseless gossip" about her husband Robin Padilla.
In her latest Instagram post, which didn't mention any name except Robin's, Mariel was believed to be addressing alleged rumors linking the actor to singer-turned-government official Mocha Uson.
The TV host asked people to spare her husband from such talk, especially as he's still grieving over the death of his older brother Royette Padilla who was laid to rest last weekend.
Mariel wrote, "So many people are sending me messages… 'checking' on me. People are tagging me bla bla bla… let me tell you this. ROBIN'S BROTHER PASSED AWAY. He is grieving. He has never been in so much pain all his life. He doesn't need your baseless gossip."
She added that Robin, whose last Instagram post was still last January 8, is unaware of the rumors circulating online.
"Namatayan ng kapatid yung asawa ko. Please lang po. He doesn't even know anything about all this rumor but I am putting a stop to this NOW. May oras para maging assholes, now is not that time. Please," she said.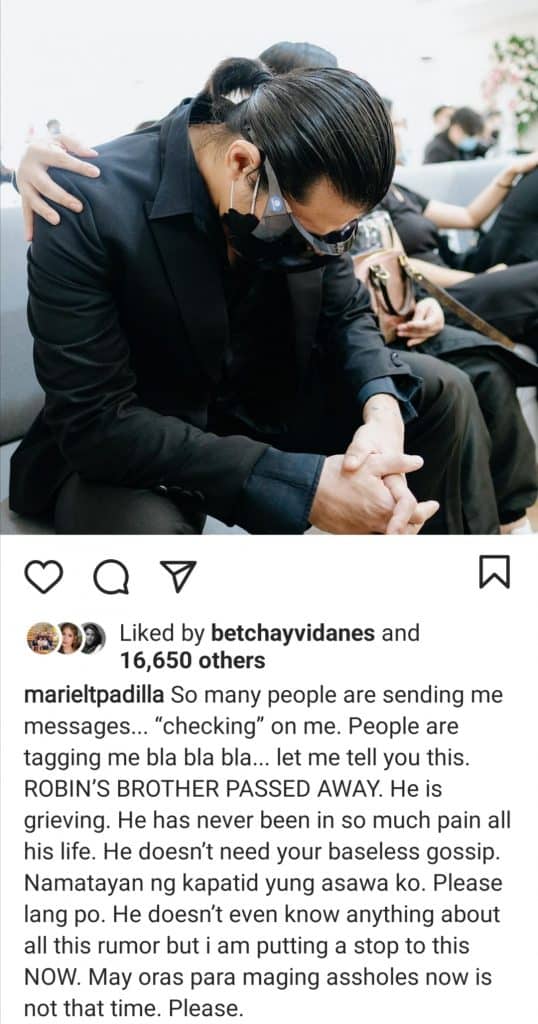 According to Philstar.com, the online rumors stemmed from the Philippine Entertainment Portal's blind item titled "Controversial female personality, nabuntis ng sikat na aktor?" published on Wednesday, January 20.
Netizens resorted to speculation that the action star and the "controversial" political blogger who now serves as OWWA deputy administrator — both known as vocal supporters of President Rodrigo Duterte — were the subject of the blind item.
In the comments section of Mariel's previous Instagram post, one netizen dared to ask Mariel if rumors were true.
"Sis ano masasabi mo na buntis daw si Mocha at si Robin ang tatay???" an Instagram user commented.
Mariel was quick to dismiss the comment with three laughing emojis.
Apparently, the online rumor mill went into overdrive late Thursday, January 21, making the words Robin and Mocha trending topics on Twitter.
As per Mariel's post, concerned people have reached out to her and she, in turn, issued a stronger denial via an Instagram post past midnight of January 22.