Did Angelica Panganiban just take an OOTD photo with matching joke at the Berlin Holocaust Memorial?
In an Instagram story, the actress was seen posing in the middle of tombstone-like dark grey blocks that some netizens have identified as the Holocaust Memorial in Berlin, Germany, where the actress is vacationing.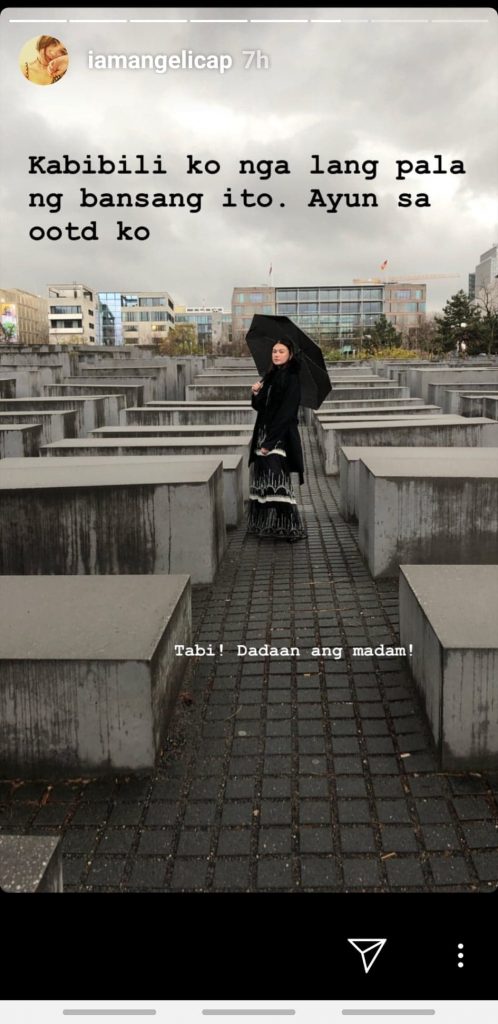 Angelica, who was unsmiling and wearing a long, dark dress, captioned it: "Kabibili ko nga lang pala ng bansang ito. Ayun OOTD ko."
"Tabi! Dadaan ang madam!" she added.
According to Berlin's official travel website VisitBerlin.De, the Holocaust Memorial — also known as the Memorial to the Murdered Jews of Europe — is "a place of contemplation, a place of remembrance and warning."
It is also one of the top draws in Berlin for tourists.
Angelica's post is part of a series of IG stories showing different tourist attractions in Berlin.
But it didn't sit well with some netizens.  
Feisty Momma blogger Dexie Wharton called out the actress for making an "inappropriate and insensitive" memorial photo and caption, urging her to take it down.
She wrote: "You just can't take a photo at the Holocaust Memorial while joking that you just bought the country and for an OOTD post, no less. Learn the history of places you travel to and be respectful. Even without educating yourself about the Holocaust there's still a thing called common sense. Not everything is for your selfies, jokes, or outfits. JUST NO! DELETE DELETE DELETE!"
While the rules of conduct don't prohibit the taking of photos or stipulate photos must follow certain guidelines, tourist behavior of taking selfies with the memorial as backdrop has had stirred controversy and debate.
It became a subject of a viral online project shaming "fun" selfie takers in 2017 called Yolocaust "that explored our commemorative culture by combining selfies from the Holocaust Memorial in Berlin with footage from Nazi extermination camps."
In 2018, a group of Filipino politicians including Vice President Leni Robredo was not spared from criticism and had to apologize for a "controversial" groufie at the same Holocaust memorial in Berlin, The Philippine Star reported.
Angelica has been traveling across Europe as part of her birthday celebration.
Last October 29, she also posted a photo that said she was scolded by Italian police for sitting on the famous historical site Spanish Steps in Rome.