Marjorie Barretto revealed the "real" cause of tension at her father Miguel Barretto's wake, which started this maelstrom of controversy involving her family.
In an exclusive interview with Karen Davila and aired over TV Patrol on Tuesday evening, she detailed her version of what happened on October 16. This was when she and sisters Gretchen Barretto and Claudine Barretto got into a scuffle and confrontation witnessed no less than by President Duterte, who was also at the Heritage Memorial Park in Taguig to pay his last respects to the family patriarch. 
Previously, Marjorie released a statement on her Instagram post that partly read: "Don't be fooled by the statements of my sisters, they are leaving out a very important detail of what really caused pain and tension in the wake" in response to an ABS-CBN report quoting Gretchen as saying that "Marjorie was not happy that I was there to reunite with family."
Based on Marjorie's interview, the tension and eventual heated confrontation stemmed from when Gretchen came to the wake with businessman Atong Ang who "used to be the boyfriend of our niece, Nicole, the daughter of our brother JJ."
The two, Marjorie said, were together for five years. "It was… sa pagkakaalam ko, personal knowledge ito. Okay, naghiwalay sila dahil allegedly, or alam namin inagaw ni Gretchen kay Nicole si Atong Ang. Okay pa yun."
However, they took offense when Atong allegedly asked for Nicole and siblings to leave the wake before they would arrive to supposedly avoid trouble.
Marjorie said, "Nagkausap po si Nicole at yung anak ni Atong Ang na she said na kung pwede umalis muna si Nicole at mga kapatid niya, dahil parating si Gretchen at si Atong.
"Bigla nalang siya lumuha, si Nicole. Hindi pa to natapos dun no? Kasi parang may injustice, apo siya eh. She had more right in the wake.
"Tapos siempre napapahiya siya sa amin lahat dahil very present naman si Atong sa lahat ng mga family gatherings namin in that almost five years as the boyfriend of Nicole. Okay. So alam namin. So parang napapahiya rin naman si Nicole na papasok sila magkasama. Parang sampal na sa pagmumukha niya yun. It was not the place to do that.
"And then tumawag yung kapatid ni Atong Ang sa mother ni Nicole. Pinapasabi ni Atong na umalis daw muna kayo, sila ng mga bata, dahil magkakaroon ng gulo," said Marjorie.
With that, she believes "everything was orchestrated."
'Atong is lying'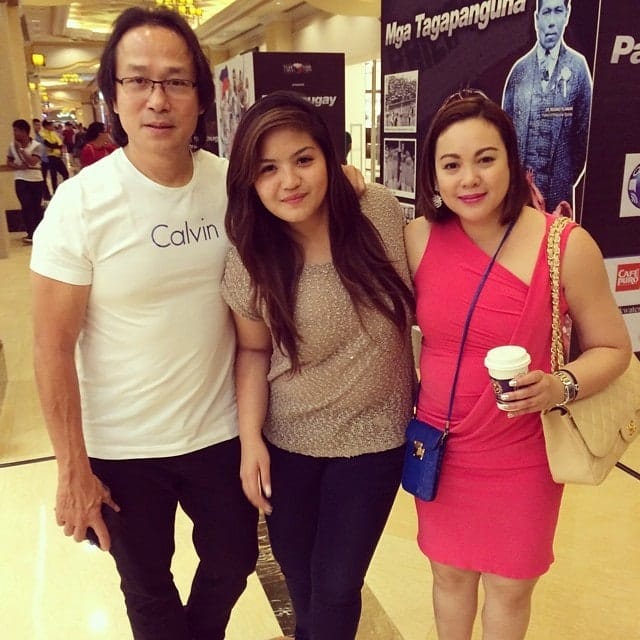 When Karen pointed out that Atong already spoke up on his association with the Barretto sisters, denied he had a relationship with Nicole and said that Gretchen and her long-time partner Tony Boy Cojuangco "are my partners sa negosyo," Marjorie said that Atong was lying.
"Yes, naging boyfriend po siya ni Nicole," she maintained and then blasted him for denying he had a romantic relationship with her niece.
"Wag naman niyang babuyin yung bata. Nakuha na nga niya ng bata si Nicole. Kasi can you imagine how old is Nicole, 25."
In a statement sent to ABS-CBN last October 20, the controversial businessman said that Nicole and her mother only used to work for him.
But Marjorie insisted, "They had a five-year relationship when she wasn't even, I think, 18," adding, "Na-baboy na nga eh. Nasira na nga ang reputation ng bata. Tapos i-di-deny mong naging sekretarya mo lang? That, I have personal knowledge of."
Asked to confirm who she was referring to in her Instagram post as her "sister's boyfriend" whom she described as "powerful in a very bad way (and I don't mean Tony Boy)," she readily named Atong.
"I have not been in good terms with Gretchen for almost five years this December. I have never seen them together as boyfriend and girlfriend. I just take it from… It's common knowledge, alam ng maraming tao, nakikita sila kung saan-saan, magkahawak and all.
"But I know for a fact that it's them because we were with our niece, every step of the way that she had to suffer the pain.
"Kasi hindi enough yung inagaw eh. Araw-araw minental torture ni Gretchen yung pamangkin namin na si Nicole."
In an Instagram exchange with a netizen, Nicole earlier accused her aunt of "stealing" the businessman from her.
Gretchen quickly reposted this with a denial on her IG stories, saying that Nicole first "stole" him from her sister Claudine. The socialite and former actress had also said on her Instagram stories, "Dada is going to address this issue," pertaining to Tony Boy Cojuangco.
She also said on her IG account that Atong was happily married.
How the confrontation started
During the interview, Marjorie released her account of how the confrontation unfolded. She recalled that the President arrived and "he had his moments with my mom and prayer for my father."
She said, "And then one on cue ni Claudine, dumarating si Gretchen and Atong. But Atong stayed at the end, and Gretchen was there, apologizing to my mother, crying and all of that. We were on the side."
She continued, "They were claiming na mainit na ang ulo ko. Hindi lang po ako, yung pamilya ko po, dahil na-offend kami really about Atong sending our nieces and nephews out of the wake of our father. That's the tension, so yung sinasabi ni Gretchen that I'm not for reconciliation? Karen, nakalatay ang ama ko for 16 days in the hospital. 14 days sa ICU. Two days in the regular room.
"Night shift si Claudine. Gabi-gabi dun natutulog si Claudine. May pang taping, may pang shooting siyang kama dun. Natutulog siya sa ICU. Claudine, ano nangyari sa yo? Bakit hindi mo na convince si Gretchen na bumisita sa Daddy natin nung nabubuhay pa?"
She said she was amenable to reconciliation but sans fanfare. "I am all for reconciliation Karen, not just for the fanfare."

'Insincerity' of Gretchen
The visit of Gretchen at the wake could have been the golden opportunity for the feuding sisters to reconcile. Initial reports described it as such, a happy reunion. Then came the news of family trouble.
"The moment was there to reconcile and no less than the president Duterte said na makipagbati ka na sa Ate mo," noted Karen, to which Marjorie replied: "I have to make it clear na napaka humble and gentle ng Presidente ha. It wasn't done in an arrogant way. He was holding both my elbows, napaka-lambing, looking straight into my eyes."
Karen asked again why she didn't seize that moment for reconciliation. "Because I could see her face. I could see the insincerity ni Gretchen. I know her the most," Marjorie explained.
"I was saying, Mr. President, these are my exact words ha. I respect you, Mr. President, I was holding on to him, he was holding on to me. I respect you. I love you, I voted for you, Sir. Pasensya na po, hindi po kita mapagbigyan.
"Si Claudine nandito, si Gretchen nandyan. Si Atong nasa likod. Claudine says, you're unbelievable! So tumingin ako, bunsong kapatid? D'yan nag-start ang bastusan actually. Di ko alam, what to make out of that."
The tell-all of Marjorie is the latest update in the Barretto saga that has no end yet in sight.